Two thousand twelve begins the third successful year of the special sunset series on Stay Adventurous and it promises to be the best yet.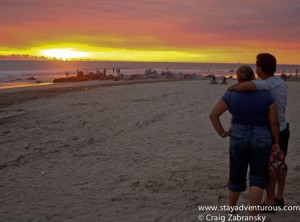 Ok, I love the weekly sunset, my question is where will you take us in 2012? What (where) can I expect to see?
The series will visit NEW destinations and also revisit some old ones to share different sunset tales. Readers can expect more from Mexico, Guatemala, and the Florida Keys along with new places in Europe, Canada, and the Caribbean. And that's just the first six months.
Also, expect a few more Sunset Sunday Guest Posts  to complete a more global view of sunsets. Remember it is a shared moment and special to everyone.  And remember you can still always share your image via Twitter at the hashtag #sunsetsunday.
2012 Sunset Sunday Archives
** Release of the Sunset Sunday Map (Sept 02)
Sunset on the Island of Naxos, Greece (Sept 16)
Sunset in Glasgow, Scotland (Sept 23)
Sunset in Tuxtla, Veracruz, Mexico (Sept 30)
**Week Off ** (Oct 6th)
Lake Hefner, Oklahoma City (Oct 20)
The Road Back to (for) New York (Nov 4)
Copper Canyon, Mexico (Nov 11)
Glimmerglass State Park, New York (Nov 18)
Ubud, Bali (Nov 25)
San Antonio, Texas (Dec 02)
Punta Cana, Dominican Republic (Dec 09)
Veracruz, Mexico (Dec 16)
Sunsets 2012 – The Year in Review (Dec 30)
Happy Sunset Sunday
stay adventurous, Craig