Many places offer unforgettable experiences and memories to last a life time. Sometimes we find them on our epic journeys and other times just outside our front door. When one stays adventurous they'll find them and so can you. 
But when people ask me about destinations, favorites, I hesitate. Sure, sometimes I'll mention a few locations and one spot I'll say is "Africa," and specifically Namibia.
It's a challenge to explain Namibia in words, and probably easier in photographs. The landscapes vary from essential Africa, to fishing villages on the Chobe to desert towns. And most of the country is empty; it is the second least populated country behind Mongolia (on my bucket list)
So to highlight, the country and my appreciation I decided to dedicate a page and create a special destination series – Namibia November
So what can we expect in this series?
You can expect more photos and less words. Also, expect all the major series you've come to love (right?) in Namibian style. You'll find Sunset Sundays, an Adventure Autumn post, Culture through Cuisine, a Market Monday, and also a Where to Stay? And although these stories will give you, the readership, an understanding of Namibia,. Remember this only a taste, there is so much more I still need to discover in the country and so much for you too.
Wow, great, but didn't you also write about Namibia before?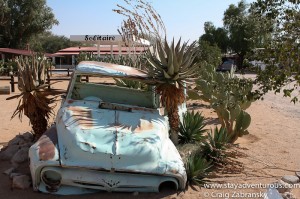 I have, and after the list of new stories, I decided to list all the other posts from Namibia on this page. So this is more than just November in Namibia. It will list all my adventures in Namibia and the stories expected for November, December and January 2012 along with those published before and more slated for 2012. Welcome, yes welcome.
Great, what stories are you writing?

New Namibian Adventures
Already Published Adventures from Namibia
This is the Namibia I know, but it's a place that grows on you. I left yearning for more. I'll be back.
Stay adventurous, Craig