One afternoon I spoke to a fellow Villanova alum and swapped travel stories over a few steins of German pilsner at a local beer garden. He wanted to learn about my career change from management consultant to travel photographer and blogger. He did. But I learned how travel impacted his life too. Not to mention how he also shared an affinity for the sunset. He described one sunset moment he remembered from the island of Borneo in the South Pacific. I asked him if he wanted to share his special moment here, he agreed:
On the second to last day of my twenty-one day trip through Borneo, a few of us were hanging on a beach outside my hotel in the Malaysian city of Kota Kinabalu. We shared a few Bali Hai's (local Indonesian beer) and reminisced about the incredible 3 week trek through the country we just completed. With all of us set to travel back home, the last hours were bittersweet.
I looked out to the ocean a few minutes before the sun began its final descent. Before the sun hovered on the horizon, the time when all the pinks and purples come out (what we usually think of when we think "sunset"), I took this picture because of the soft golden glow. It was an effect I hadn't seen before or at least one I didn't remember. It was special to my trip and my travels to this part of the world. The dark clouds in the front give way to the fading sun, and beyond that blue sky infused with gold – it became my Midas Sunset. I often look at this image and am reminded of the subtle unique peacefulness that I brought back with me after my trip and trek through Borneo.

;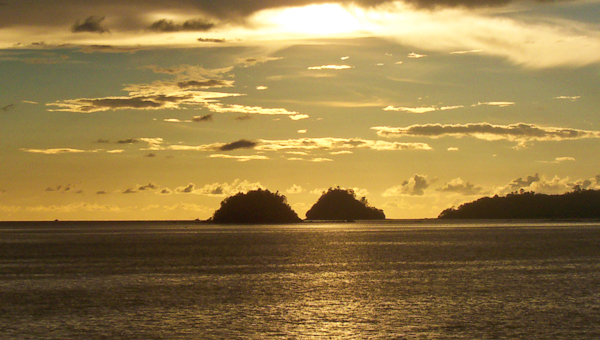 -Tim Kelly
A special thanks Tim for sharing his story and sunset moment. For more of his images and moments, you can follow Tim on twitter at
@Tim_Kelly1
or view his
flickr account
. Plus if you are interested in sharing a sunset moment here, you can contact me about
Sunset Sunday guest posts.