Welcome to "Stay Adventurous." And since I introduce myself in every personal journal I write in, let me also introduce myself here.
After an eventful first year as a freelance writer (2009) and over five years since my first piece published on the web (2005) I decided to create a personal blog. Now after four full years it continues to grow.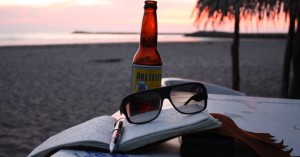 This outlet shall serve as an additional platform for my professional stories, but it will be more. I'll write about the places and angles to further inspire you to take and make adventure in your life; to Stay Adventurous. I'll elaborate on the culture, cuisine, and cervezas I find on the road. Share my views, observations and discoveries from my global galavants. I'll write what I truly believe.
So why Stay Adventurous?
First off, I don't expect everyone to bungee jump or sky dive.  And although I already bungee jumped and recently just jumped from 10,000 feet, but I know it is not for everyone. The adventurous person is someone who takes one or two steps outside their comfort zone, someone who moves beyond complacency, someone who changes their attitude to "yes, let's have fun today." And that's my ambitious goal, to inspire others to take that step. To encourage others to take and make adventure (fun) in their life.
How do you Stay Adventurous?
For me, I achieve that through my travels. I am truly alive on the road. After traveling through over 40 US States and over 40 countries I find my self in complete agreement with St. Augustine,
"The World is a book, and those who do not travel read only a page."
And yes I want to read the whole novel. But am I writing the book? No, not yet, but I am writing stories to inspire others to take and make adventure in their lives. Again, that is the goal.
I am also here to encourage you to look at life as a vacation, yes. "life is a vacation in which I occasionally need to work." I am not looking at this the other way, I am not saving for a two week holiday, but flipping the mindset and considering life the holiday, the fun – and I want you to do the same. It is certainly better on this side of that fence, and yes, I believe the grass is greener when we are in the proper mindset – the mindset for travel, the mindset for life.
So who am I?
I can tell you I am the guy who appeared on Fox and Friends or Sirius Radio to discuss travel sabbaticals, travel writing, and the importance of following your dreams. Or that I am a Mexico expert according to CheapFlights News and Views travel blog or the creator of Sunset Sunday. Or other credentials, accolades, etc… But what I'd rather you know is that  I am just a man who enjoys the open road and wants to inspire others to become adventurous and have FUN. I want to encourage others to take the trip, make the journey that can and will change your life. I did. Now I can't imagine my life any different.
So what's next?
What isn't next? Destinations. Experiences. Fun. And Adventure. I plan to continue traveling, continue inspiring others through my writing, and continue enjoying my time here on earth.
Stay Adventurous,
Craig Zabransky
To catch me:
Contact me at: craig@stayadventurous.com
Stay adventurous, Craig