Two of us boarded the bus for the afternoon tour with our driver. Yet  just before we exited the hotel gate, the other passenger changed his mind and exited the vehicle for an afternoon poolside. He left me on a personal tour with a jolly man nicknamed "Smiley."
I decided to switch from conversing in English to Spanish (I always could use practice) and also to shorten the itinerary. I wanted to cruise up the malecón to learn about its history and watch a sunset. Smiley agreed and then pulled over to show me a photo. He took out his mobile phone and described a place with a view of the entire bay for the sunset. The photo looked great. I was sold.
Yes, it seemed to be a perfect vantage point to capture the day's daily descent, but I really said yes, because he shared his spot. He wanted to show me a  place where he goes to watch the sunset. He wanted to show me his special place.
My Spanish lesson continued up the coast along the malecón. We stopped to take photos of seaside sculptures, to watch a kite surfer ride waves, to purchase a few post cards, and even to view Mazatlan's (hollywood style) stars on the Malecón all before the sun approached the horizon. Then just one stop remained.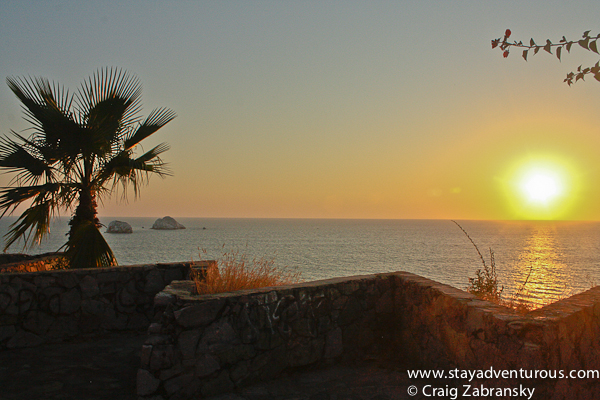 We arrived with plenty of time to spare. The climb seemed easy in the van and we parked atop the hill. We walked down steps through the vacant public space and approached the edge. From there we viewed the vast Pacific Ocean. A wonderful moment. Thanks Smiley.
stay adventurous, Craig
A special thanks to Smiley for my private tour and our Spanish conversation. Also thanks to the Mazatlan Hotel Association for providing passage to me to attend Fiesta Amigos in Mazatlan.