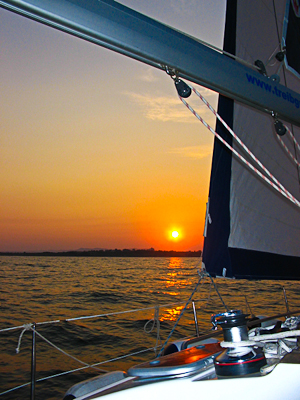 When I first arrived to touch the waters of the Black Sea it was just that black, pitch black in fact. But the time read close to midnight when we reached the beach just south of Sozopol in Bulgaria to set up tent.  It was no surprise.
The next morning I woke to the sounds of the waves and exited the tent with gusto to see the Black Sea for the first time in daylight. I opened my eyes to a beautiful blue sea; the beautiful blue Black Sea.
Those moments began my Black Sea adventures in Bulgaria. Adventures that would span across multiple shore towns of the Bulgarian coast. My travels stopped in Sozopol, Nessebar, Varna and even some smaller remote spots on the sea. I partied with Russians, toured ancient cities and ruins, dined with locals and family (friends and family of my friend) and also set sail on the sea itself.
The day at sea was a gift to my friend from her mom and I happily tagged along. Ever since sailing the Greek islands changed my life I have been keen to sail at every opportunity. And this day was no different. I set sail with a smile and returned with a bigger one after an exhilarating day on the waters of the Black Sea.
On our return I relaxed on the deck, drink in hand, and watched another sunset in Bulgaria. This one was much different than the sunset in Melnik, yet my thoughts seemed to drift once again to the same thing. They centered on something simple. I  focused on being present, being at my location. Yes, I was on the Black Sea and inside Bulgaria. As a child of the cold-war I never thought I'd experience this part of the world, and now today I consider myself very fortunate I have.
Happy Sunset Sunday.
Stay Adventurous, Craig
To listen to my thoughts on all of Bulgaria, tune in to my interview on  the Amateur Traveler pod cast – Bulgaria here.
This is part of my European Summer Series. And a special thanks to my dear friend Milla, who not only guided my through this part of the world, but also provided me with her photographs from our adventure as many of mine were painfully lost. Both photos here are hers.