The horizon seemed to brighten and I knew the moment arrived. I put down my drink, grabbed my camera and started to walk up a snowless ski trail to the top of the mountain. I left the Taste of Vail event located at 11,444 feet behind to climb up even further.  And it took time as I needed to stop for a moment to catch my breath in the thin air. But eventually, I found the silence of nature and the western view to watch a sunset over the valley.
The sunset was the main reason I carried my camera up the double gondola ride to attend the TBEX 2012 welcome reception. And although many of the dishes, especially the chocolate creations for dessert warranted photos, my focus was on capturing a sunset moment. It would be the highest in my entire Sunset Sunday series collection.
I arrived slightly out of breath, but with plenty of time as the longer days of June made for a much later sunset. I stood atop the mountain and looked into the valley as the trees illuminated with a bright green almost to say goodnight prior to the sun's descent behind the distant mountain. Then just as the sun kissed the mountains it was the clouds turn to brighten and I snapped this image.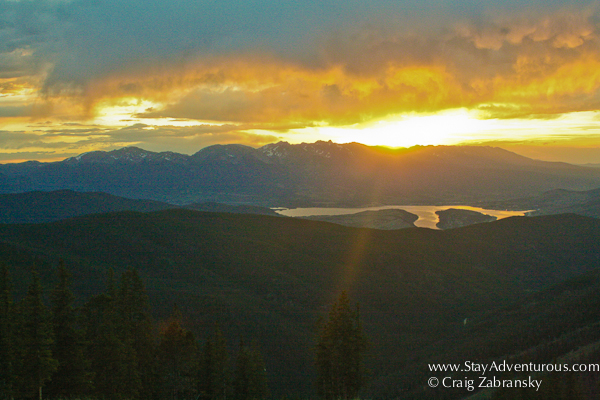 I wanted to stay to watch more of the afterglow, but I had my moment and now it was time to return to enjoy time with my fellow TBEX attendees. Happy Sunset Sunday.
stay adventurous, Craig
 TBEX is the Travel Blogger Exchange. This year it was held at Keystone Mountain in Colorado.