The annual Stay Adventurous travel calendar returns again for 2020. Back for its lucky 7th year, this time a new theme was selected to be showcased…..
Bucket List Beaches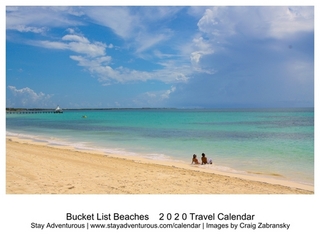 We all love our beaches, and the ideal beach is different for all of us. Sure the palm trees and crystal clear water often come straight to mind for most of us and the calendar offers many such images, but other beaches offer surprises, offer a sanctuary or even a place for specific events and activities. Ok, so let's explore some "bucket list" worthy beaches.
2020 Stay Adventurous Travel Calendar
If you know this site, then you know I often detail beaches, especially during the cold winter months with my Winter Series – Beach Thursday and to select just 12 beaches was a challenge especially since my goal was to provide beaches for all people, for all reasons and across the entire globe.  Of course,  many beaches selected are tropical with palm trees, but some are even from lakes or places I surfed or just flat our places you need to visit.  The goal of the design was to showcase the variety of beaches, the variety of reasons we visit them and showcase beaches from all over the world. To showcase Bucket List Beaches.
The travel calendar highlights a few popular destinations Riviera Maya, Indonesia and even places voted best beach in the USA such as Clearwater Beach in Florida. But it also provides a look at other beaches, perhaps not as popular or "famous," but certainly worthy of consideration in your future travels. So stay inspired all 2020 and order your Bucket List Beaches 2020 Travel Calendar Today.
And thanks again for your continued support through the years following the site, the travels and ordering your calendar. I wish you health,  happiness and success in 2020.
ORDER the 2020 Stay Adventurous Travel Calendar Today
Order copies today for family, friends, co-workers and yourself.  Stay inspired all year; do not be without the 2020 Stay Adventurous Travel Calendar, order yours today.
Special Donation to the Bahamas Recovery Efforts
It may be impossible to put together a calendar of the world's best beaches together and not include the Bahamas. These islands offer some of the most idyllic beach settings in the world.
The February image in the Stay Adventurous Travel Calendar is from Half Moon Cay (Little San Salvador), a privately owned island (by Holland America Cruise line) in the Bahamas. And although this island is open for business again after the recent Hurricane Dorian, much of the Bahamas remains in need of major assistance.
To assist I plan to donate $2 from every calendar sale to the Bahamas recovery efforts. I shall keep you posted on the charity / organization selected in early January. Thanks for your support.