The annual Stay Adventurous Travel Calendar returns in 2018 not only with a new focus but also with a purpose. As many of you know I call the Florida Keys home and in September the Keys were devastated by a Hurricane Irma. Many places in the Florida Keys face big challenges on the long road to recovery.
People I know were directly affected in losing homes and livelihood. Many need to pick up the pieces of their businesses and lives and move forward.  I have no doubt the Conch Spirit in the Florida Keys will prevail. The #KeysStrong local culture will enable it to recover, but that doesn't mean it couldn't use help. I plan to help and you can too.
the Stay Adventurous 2018 Travel Calendar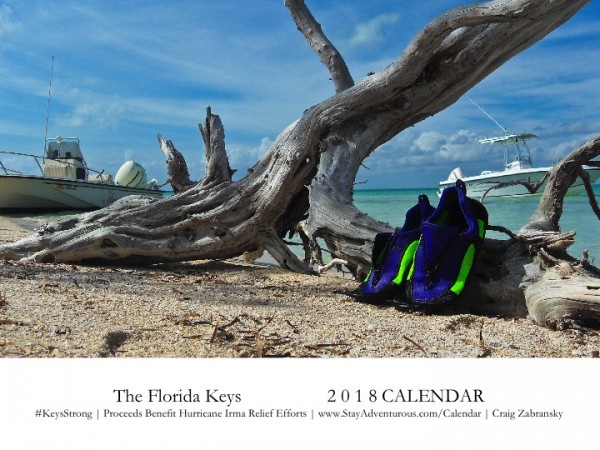 So for 2018, my travel calendar will be strictly a Florida Keys calendar. It will showcase twelve of the many places I love from the over 100 miles of road in the Florida Keys from Key Largo to Key West.
The calendar follows a Florida Keys Road Trip from Florida City to Key West and back with stops (images) or adventures in Key Largo, Islamorada, Marathon, Big Pine, Key West and more highlighting many of the unique activities and adventures that await visitors who travel to the Florida Keys. 
Donate to the Florida Keys Relief Efforts.
To help the communities, $10 USD from each Florida Keys Calendar will be donated to organizations helping those affected and assisting with the many rebuilding efforts.
The money will be donated to:
Order a 2018 Calendar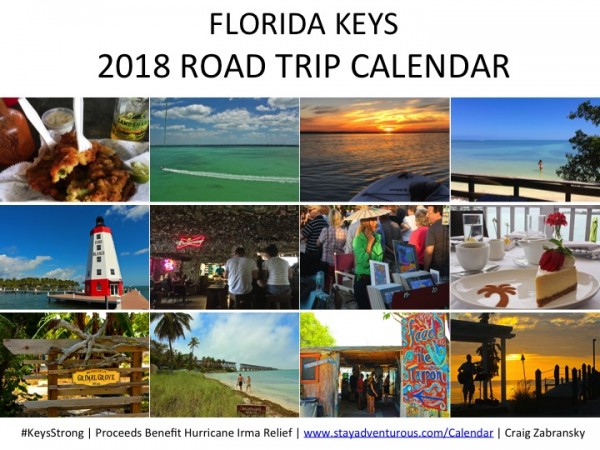 As with every year, this calendar makes a perfect holiday gift for business colleagues, co-workers, clients, Secret Santa exchanges, family, friends, and even (or actually especially) yourself. This year it is also the perfect gift for those who love (or someday will love) the Florida Keys by giving you a chance to support it and also a reminder each day of 2018 to plan your (next) visit.
To ORDER click here > Order the 2018 Florida Keys Road Trip Travel Calendar and Help Make a difference.
Thank you for your continued support with Stay Adventurous and your support for the Florida Keys.
Stay Keys Strong, Craig