Stay Adventurous in Mexico City and travel this great capital city with me. Learn to see Mexico and life differently as you travel through one of the world's best cities and experience Mexico through my eyes, heart and soul.

Stay AdvenTours – Cultural and Culinary Mexico City Itinerary
Next Adventure Slated for Fall 2024
See 3 minute sample  VIDEO > here
review 2019 one page itinerary : >here
When:  Dates TBD Fall 2024
(4 days / 3 nights)
Arrive Mexico City and visit Centro Historico
The first stop, Centro Historico will enable you to get our first impression of Mexico City today and also great clash of cultures that occurred here between the Aztec Civilization and the Spaniards. We will tour the important ceremonial center of the Aztecs, the Great Tenochtitlan, the Spanish Cathedral, the murals at the National Palace and walk the main square, the Zocalo
Before we enjoy dinner at Azul Historico, we will experience a beautiful rooftop sunset over the Zocalo.
Included: Transportation; Guide; Dinner
Day 2: Friday:

Visit the the Basilica, the Ancient City of Teotihaucan and Taste Tacos

Today we start at the famous Basilica of Our Lady of Guadalupe to see the cloak with the image and learn about the Catholic pilgrimage. Next up we are off to visit Teotihuacan, one of the most important and influential centers of the Mesoamerica. The people and architecture, art and culture had a great influence on many of the other cultures within Mexico. an expert archeologist, who worked at this site, will show us some of the lesser visited regions and also walk us through the Avenue of the Dead, where we can see and climb both the pyramids of the Sun and the Moon.
Returning to Mexico City, we will enjoy a tacos at one of my favorite places.
Our evening is free and I will provide many suggestions on how and where to spend it. With options on dinner, cultural events, and evening drinks
Included: Transportation; Expert Bilingual Guide; Tacos
Day 3: Saturday: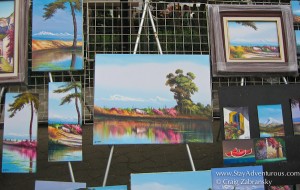 San Angel and Coyoacan Neighborhoods. Exploring Bazaar Sabado and the World of Frida Kahlo!
The place to be on Saturdays is in the Southern part of Mexico City. We begin in the bohemian neighborhood of Coyoacan, where we will tour the Frida Kahlo Museum, or "Blue House." Then, we we'll stroll in Coyoacan to see visit some favorite haunts, restaurants, markets, to view one of my favorite areas of the city to relax. We will enjoy the "mercado de antojitos"  for a local lunch and then we will visit a local mezcaleria to taste mezcal…tequila's smokey cousin, while people watching on the town square of Coyoacan.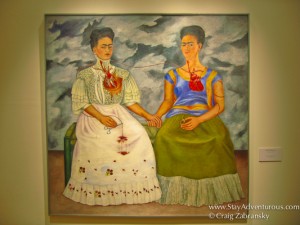 Then we visit to the Bazaar Sabado in San Angel, where we will visit the artists at Plaza San Jacinto and see other fine artisans of Mexico. It is a favorite pastime of the locals and a great place to spend the afternoon.
We return to the hotel to rest a bit before our "night on the town" in Colonia Condesa and Roma to see how the local people live. These neighborhoods are trendy, artsy and are where some of Mexico City's best and emerging restaurants, mixology bars and art galleries are located.
We will dine with Eddie Garcia at famed Maximo Bistro (or other), and visit some of the great mixology bars of the Col. Roma neighborhood (one in particular).
Included: Transportation; Entry to Frida Kahlo Museum; Mezcal Tasting; Lunch in Coyoacan; Dinner in Roma
Day 4: Sunday: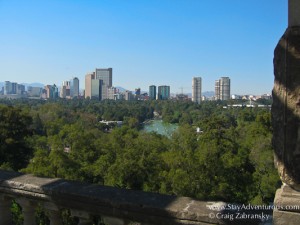 Sunday on the Reforma and Chapultepec Park

Today, we will explore the art of Sunday in Mexico and experience its family day. The day will be free of guides except for me. We will start with an adventurous bike ride on the main Paseo de la Reforma to the Zocalo and then into Polanco. Eventually we will visit Chapultepec Park to watch the locals enjoy their family time and see how romantic the city can be.
We will also visit some unique monuments, including a castle to to take in expanding views of the city. Then depending on your flight schedule, we will enjoy look to brunch close to Chapultepec Park before heading back to the hotel and then the airport.
Included: Transportation, Bike Rentals
Summary of Stay AdvenTours Mexico City Tour:
HOTEL:  Hotel Emporio or Hilton La Reforma in Mexico City or 4 star equivalent
COST:     $2,299 per person; discount for double occupancy
Minimum:  5 People
Included:
3 Nights Hotel
All Breakfasts (3)
Dinners  (2)
Lunch /Brunch (2)
Ground Transportation and Guide per itinerary
All Driver, Local Guide,  Hotel Porter and Room Tips
NOT included:
Flights
Airport Transfers (can be arranged if required, but airport taxi is safe and easy)
Alcoholic Beverages, unless stated as "Included in Itinerary"
Personal Items: cabs, laundry, etc.
SIGN UP AND COMPLETE FORM

This tour is run in conjunction with Authentic Mexico travel Sign up and payments will be completed through that site next year. For now please email Craig@StayAdventurous.com for all details and questions and deposits.
Look forward to touring with you in Mexico City in Fall of 2024.
For any additional questions or details, please email me at Craig@StayAdventurous.com