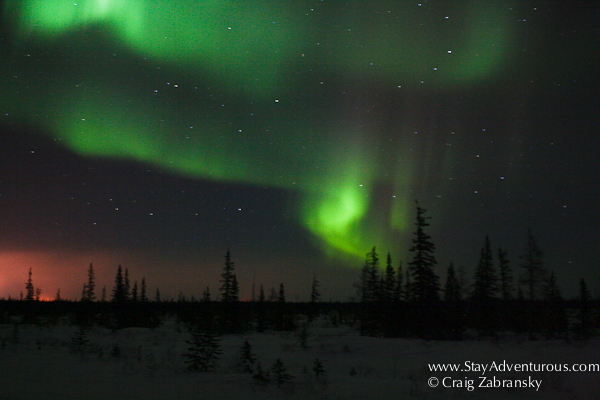 I couldn't sleep; in fact I was wide awake. Alive. I guess you can say the lights kept me up. After my first night I even wondered if the Northern Lights, my first views of the Aurora Borealis, were just a dream, but after a second night of embracing the arctic air, the vibrant, dancing lights were more real than ever. I witnessed something magical.  I witnessed it twice and I couldn't sleep a wink.
It was well past 5am and I still needed to talk about my experience and learn about the culture in this part of the world.  I was not alone.  The Tundra Buggy driver was with me along with two true locals from the Canadian Arctic. They locals lived even further north on the island Gjoa Haven and for one of them this was the furthest south he had ever traveled in his twenty four years. His furthest south was my furthest north and we were both in Churchill, Manitoba.
Churchill, Manitoba
When people learned I was heading to Churchill, Manitoba everyone asked about polar bears. Did I encounter any?  No, none apart from the countless art, artifacts and souvenirs. This wasn't polar bear season. That season is in the fall prior to the freezing-over of Hudson Bay.
Even without polar bears, or thankfully without them too close, there is plenty to do during the day. Adventure can be found in dog-sledding, snowshoeing through the Boreal Forest (essentially the arctic tree line), visiting the local research center, and the town has a museum. Actually, just walking a few blocks outside in the wicked wintery wonderland proved to be an adventure at times.
As much as I enjoyed my days, the nights were why I wanted to come to this part of Canada. Churchill is one of the largest settlements (although still under 1,000 people) close to the Arctic Circle and is a perfect place to view the Aurora Borealis. Yes, the Northern Lights. Thankfully, I did see them.
Night 1 – Frontiers North Tundra Buggy
Although bitterly cold, (-20s C) the weather conditions were strangely perfect.  With nearly no moon, little wind-chill and a clear sky we had ideal viewing conditions – now all we needed was the solar flare activity to cooperate. The plan with Frontiers North (the arctic adventure tour company) was to head out in the Tundra Buggy.  This huge "truck" is specifically designed for the challenging terrain and also provided a high viewing platform, especially useful during polar bear season.
Inside, with two fireplaces, the comfortable "chesterfield" couches made warming up a joy while taking a break from standing out in the cold, watching (and photographing) the lights. Down the center of the buggy, long tables were set with full-spreads of wine, cheese, meets and coffee with Amarula for us to indulge. This definitely made for a luxurious experience in this part of the world, but the lights were the show. What an amazing show too.  Yes, we did see them; we did indeed.
In fact, just prior to leaving at 2am on the first night we saw them dance. Often you see time lapse movies of the Northern Lights when it seems as if the lights are dancing fast, but you need to realize because of distance and darkness those images are exposed at about 10-20 seconds and then sped up. The dance you see is multiple images in real time of minutes, not instant. So, when you really see them dance instantly… it is camera down and watch. It's wonderful.
Although I wanted some great images, truthfully, I didn't care how my images looked, the final moment of seeing the dancing lights will remain with me forever. It warmed up my soul and I didn't even feel the cold, rather I felt connected to something magical and a warmth associate with such a connection.
Night 3 – Taking the Vans
Our second night was a complete white-out.  A storm swept in, offering zero visibility and -40 degrees temperatures.  Of course we were disappointed, but it made us realize how fortunate we were the prior night. Also, it did give us a chance to review our photographs and prepare for a second chance at images. Still, more than anything else, I just wanted to see the Aurora Borealis again. We all did.
On the third night, again the weather wasn't perfect, so the decision was made to take vans instead of the Tundra Buggy. Disappointed because this translated into less space, no fireplace, no refreshments and no bathroom. But no matter, it was about the Northern Lights and all would be right with the world if we saw even a glimpse.
As an improved photographer and better prepared, even if the temperature was (-40s C) brutally cold which might dampen spirits once darkness descended and the Northern Lights began just before 10pm, everyone seemed to warm up. I know I did.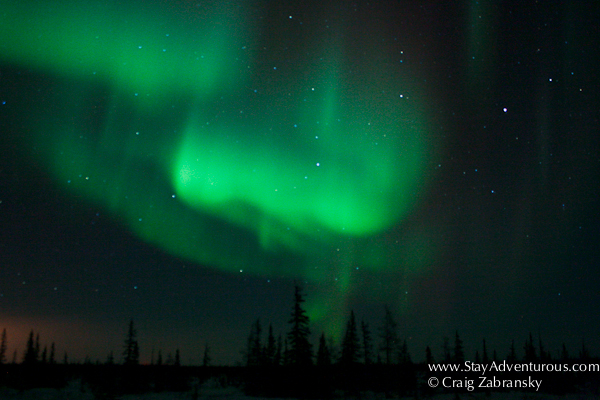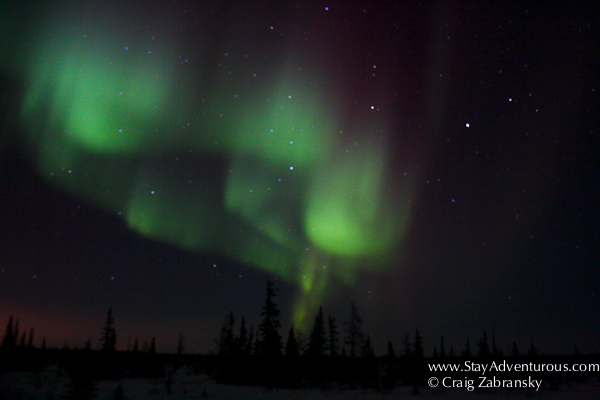 It was another success and I am not just talking about the images.
Adventure Travel Mindset Tip
In some ways you can view a trip to see the Northern Lights in Churchill as an Arctic Adventure, a photography trip since I learned more about my camera's limits (and mine), or view it as many travelers do – a "bucket list" trip. (It was one of my top 5 adventures for 2013). Now returned (and warmed up) I know it was more. Much more.
I am still up, or awake, from those nights. Even two months later the memories and feelings are at the surface. I don't think the lights will ever truly fade. Dan Harper, a professional photographer on the tour with us said he shed a tear when he saw the lights. I did too. I shed many. It was that magical and if this was not on my bucket list, I might have waited or maybe never made it my priority. Today, it's one of those adventures I'll always talk about. Forever.
Trips like this that remind me, waiting or postponing things you truly want to see, do, or enjoy is exactly not the way I plan to spend my days. So, now that I am wide awake thanks to the Northern Lights,  I plan to do them all and infinitely more.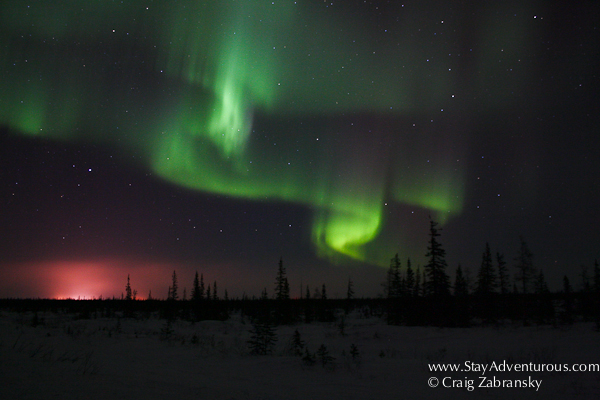 Yes, I plan to stay adventurous, Craig
Also, a special thanks to Frontiers North and Travel Manitoba for providing passage for me to witness this life changing adventure. This post is part of the Adventure Mindset Special Series.