For over three years now, the Sunset Sunday Series posts a weekly sunset image on Sunday. However, it's more than an image. It allows the reader to see the beauty, but also experience the wonder associated with the moment. To live the moment through narrative; to come along for the ride.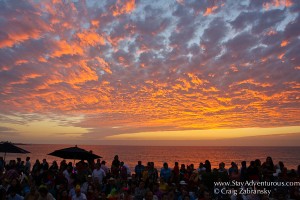 Currently over 125 images and shared stories exist on the site with more each week. And every week a new sunset is scheduled. This page provides a look at the 2013 calendar, where have we already been in 2013, and which destinations are next.
Of course, you can always view all the sunsets by destination either on the Sunset Sunday series map, as a simple list,  or by specific year through the annual archives.
Sunset Sunday Series Map
Sunset Sunday Archives by Location
Sunset Calendar:
2013 Sunset Sunday Archives
Jan 06th – South Shetland Islands, Antarctica (Guest Post)
Jan 13 th – The Road San Isidro, Chihuahua
Jan 20th – Week Off
Jan 27th – Return to a Snowy Beaver Lake, PA at Sunset
Feb 03rd – A Stop at the Holiday Inn, Mazatlan
Feb 10th – Sunset in Zadar, Croatia (Guest Post)
Feb 17th – The Mazatlan Carnaval Parade Halftime Sunset
Feb 24th – Sunset in Bishkek Kyrgyzstan
Mar 03rd – San Blas, Nayarit, Mexico
Mar 10th – RIU Hotel, Nuevo Mazatlan
Mar 17th – Casas Grandes, Chihuahua, Mexico
Mar 24th – Plaza del Toros, Mazatlan, Mexico
Mar 31st – Moonset in Puerto Vallarta, Mexico
April 7th – The Arctic Sunset of Churchill, Manitoba
April 14th – Sunset in Astana, Kazakhstan (Guest Post)
April 21st – Week Off – (New York Travel Festival)

April 28th – Sunset in Piskent, Uzbekistan (Guest Post)
May 12th – Sunset in Andalucia, Spain (Guest Post)
May 19th – Sunset in Walt Disney World
May 26th – Sunset in Komodo National Park, Indonesia (Guest Post)
June 2nd – Churchill Airport, Manitoba Canada
June 9th – Week Off
June 16th – Equinox Resort and Spa, Vermont
June 23nd – Hubil, India (Guest Post)
June 30th – Niagara Falls, Ontario
July 7th – Buffalo, New York
July 14th – Austin, Texas (Guest Post)
July 21th – Bohol Island, Philippines (Guest Post)
July 28th – Mile High Mexico Sunset
August 4th- Fours Seasons Hotel Miami
August 11th- Luang Prabang, Laos (Guest Post)
August 18th – Bostan Abad, Iran (Guest Post)
August 25th – Lake Wallenpaupack Scenic Boat Tour
September 1st – The Triple-A Sunset from the PNC Field in Scranton, PA
September 8th – VIP Sunset in the DR
September 15th – Sunset in Paradise – Riviera Nayarit
September 22nd – Eastern and Oriental Sunset in Penang
September 29th – Morocco: A Silhouette on the Sahara