I asked my friend Sherry if the sun even sets in Antarctica when I noticed her Facebook post from the seventh continent a few weeks back. And now she has supplied the answer in a guest post for Sunset Sunday Series. Enjoy her story from celebrating the "sunset" near the South Shetland Islands.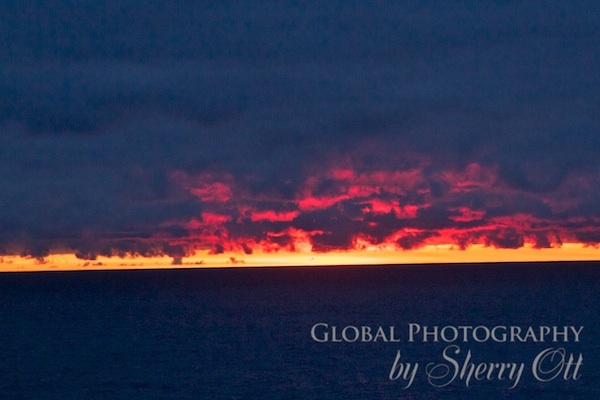 Sherry:
The time was midnight and I stared in amazement as the sky looked like it was on fire.  There was no signs of darkness coming to this part of the world in mid December, instead we were experiencing white nights while cruising around the Antarctica peninsula at this special time of year.  I sat in the lounge bar at the back of our expedition boat and drank beer while keeping a close watch on the horizon.  Each hour that passed in to the next morning I expected it to get dark, but the sun just teased me sitting right below the horizon painting the clouds above it in pinks and oranges.  
I sat and socialized with friends, never feeling tired thanks to the sun's position – a perfect time and setting to reflect on just how beautiful this untouched part of the world is.  It deserved a spotlight for 24 hours I thought.  Before I knew it, I was surrounded by empty beer bottles, and jovial friends when the sun decided to reappear above the horizon at 4AM trying to remind us that another day had started here at the bottom of the world.  A sun that never sets can be dangerous. 
-Sherry Ott
Sherry Ott is a corporate cube dweller turned nomadic traveler who enjoys the off-the-beaten-path destinations. She brings you unique travel experiences, photography and also life experiences of a middle age wanderer on her site and more of her
Antarctica Chronicles on OttsWorld.
You can also follow her on twitter
@ottsworld