Mary Anne is a VIP all the way. It is no surprise when she provided a sunset image from Dominicus Beach, La Romana near Punta Cana in the Dominican Republic for the Sunset Sunday Series she took the photo from a VIP Terrace. I first met Mary Anne in New York, during the New York Times Travel Show, but we really bonded in Toronto at TBEX. And if she wasn't on the west coast, I suspect I'd see her more often, especially since staying adventurous means VIP access at times. OK, Mary Anne describes her sunset moment.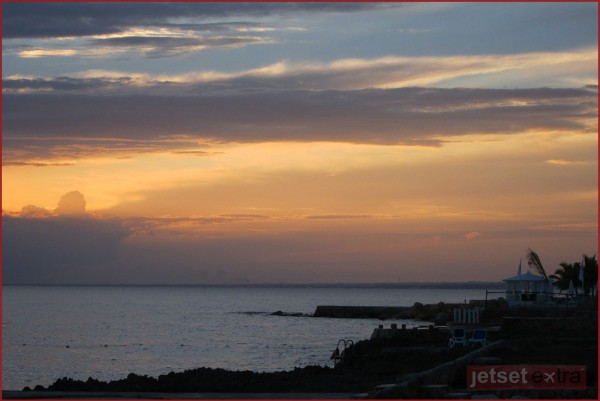 Traveling around the world offers many opportunities to see amazing sunsets. Though they are all special, this one in particular will stay with me for a very long time. This sunset shot was taken in Punta Cana from the VIP terrace at the Viva Wyndham Resort. It was a gorgeous warm evening with a sweet ocean breeze accompanied by a fabulous gin and tonic and two great friends. We told stories for hours and laughed as hard as we could. I really believe that traveling with friends and making memories is the way to really remember a destination. I will forever have this memory and I actually laugh every time I think about it.
Happy Sunset Sunday.
-Mary Anne
Mary Anne Been is a partner and video segment producer at Jetset Extra in Burbank, California. She's a travel fanatic – and she's been all over the world and hopes to visit Italy next. She also loves her husband and kids, fine food, and good times. Get to know Mary Anne on Twitter @marybeen21 or through Jetset Extra – either way it's time well spent.