I met Marie in New York, where she apparently lives, but truth be told she is always traveling.  And for this week's Sunset Sunday, she describes a sunset memory from Luang Prabang,  Laos.  Enjoy –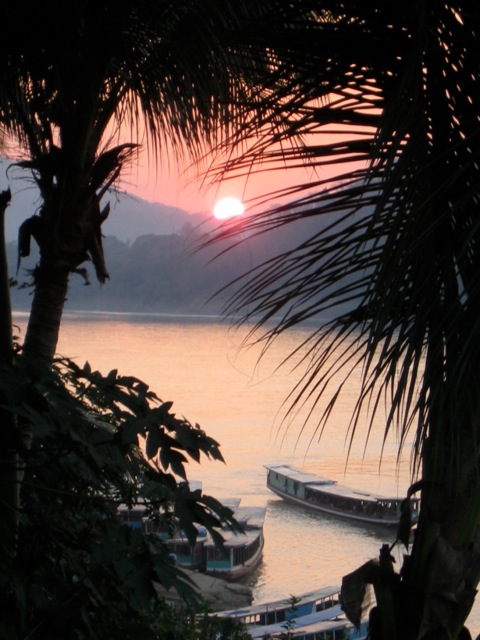 Each day that I spent in Luang Prabang was full of lazy beauty and discovery.  Whether it was the morning alms collection by Laotian monks, or the nightly market set up on the main drag, there was an easy calm to my time in Laos.  It followed that each evening, I would end the day with a Beer Lao at one of the many cafes that overlooked the Mekong River, and watch the sunset.  The long boats would steer themselves slowly into the dock, delivering a new crop of passengers to this sleepy town.
On this particular day, I was awaiting the (hopeful) arrival of a boy who was (maybe) making his way to me from Thailand to surprise me. I sipped my beer quietly, my eyes darting through the disembarking crowds for his familiar mess of curly hair. Was he among them?  In Laos?  Or was just fussing over another silly boy, per usual.
By the time I finished my beer, I hadn't spotted him. Disheartened, I began the short walk back to my guest house. Then, my phone buzzed as I got a new SMS.  "Meet me at The Elephant" (a local restaurant), and my heart soared.
-Marie Elena
Thanks. Happy Sunset Sunday.
Marie Elena Martinez is a freelance travel, food, and lifestyle writer for such publications as The Wall Street Journal, Newsday, the Boston Globe, and the the Miami Herald, You can read her around the world adventures from the last five years on her blog,  find more on her website, and follow her daily adventures through her tweets at @mariesworlds