For many of us summer is just beginning of warmer days and special sunsets. Our thoughts are not centered on the number of days till Christmas (still over six months away). But when Kathryn of the "antitourist" has a great sunset story involving Christmas, it almost seemed appropriate to put her on the opposite or perhaps "anti-side" of Christmas  – June.
In her words, she describes her special holiday sunset moment in Habil, India
An Christmas Sunset in Hubil, India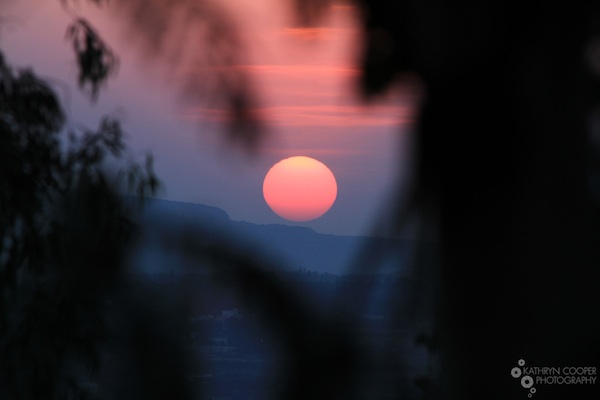 On Thanksgiving I was offered a position at a foundation in India, and within 3 weeks I was on a plane to India with my belongings on my back. After exploring New Delhi and Mumbai, I had caught a train all the way to central India, met my new coworkers, moved into an apartment, and barely had a moment to breathe. This was my first time out in Hubil, and a small group of us trekked up to the city's only hill: a park with views over the entire "town" of one million people.
I found a quiet spot at the highest point on the hill, turned around, and saw this enormous pink sun setting—my first real sunset since arriving. I thought about my family back in America, my whirlwind move across the world, and how a hike to a hill was certainly, shall we say, a unique way to spend Christmas. Sunsets in India are always amazing, but this one—completely unedited—left me pondering my new life until it dipped below the horizon.
-Kathryn
Kathryn Cooper is a freelance writer, photographer, and creative consultant based in New York City. When not working she enjoys traveling to remote areas of the world, outdoor adventure, eating street food, and writing somewhat sarcastic posts on her travel and photography website, www.AntiTouristTraveler.com. She can also be found on twitter: @AntiTourist