I arrived to the Liberty Hound just before sunset. The restaurant adjacent to the Buffalo & Erie County Naval & Military Park, the largest inland naval park in the U.S, in the canalside district provided both outdoor and indoor seating for dinner. I chose indoors (available), placed my order, and then quickly headed outdoors with my camera to capture the sunset on the Buffalo waterfront.
Walking through Naval Park to get to a vantage point on the canal to see the sun set in the water took longer than expected. (It was a large park).  I walked and walked and then walked briskly. I picked up the pace to make sure I made it to the edge of the waterfront to capture the sunset moment with a view of the sun. I did.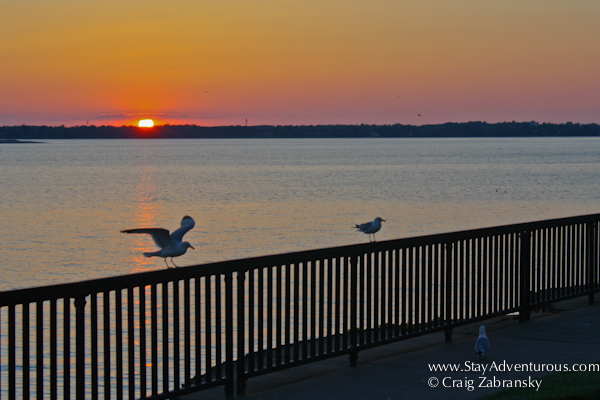 And I discovered I wasn't alone watching the sunset either.  Whether birds paused to appreciate the moment or the locals sat at picnic benches with their own adult beverages (allowed in the marina), it is always pleasure for me to take comfort in knowing others were appreciating the sunset moment too. Yes, the people of Buffalo know they have a good sunset spot on the canalside waterfront.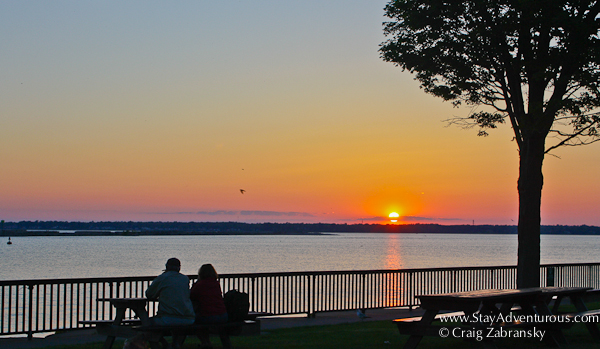 And upon returning I sat down for a meal and enjoyed a full, fresh chilled pint of a local New York brewed beer – A Brooklyn Lager. A long way from Buffalo, but another place with a waterfront.
Happy Sunset Sunday.
Stay adventurous, Craig
Special thanks to Buffalo-Niagara Tourism for recommending Liberty Hound for dinner and a place to capture a sunset in Buffalo.