I met Maria through twitter and probably through Sunset Sunday itself. She often shares her thoughts on the series and this week I am delighted to have her share one of her own images- an Austin, Texas sunset. And in her unique style she just whipped up a quick Haiku to accompany her photo: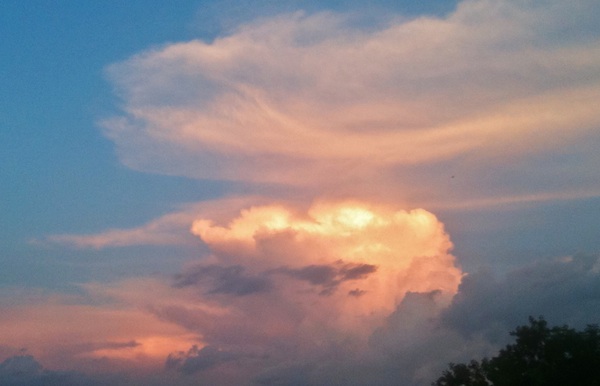 Cicadas' songs rise
Lux hues exploding skyward 
Distant thunder pounds
-Maria Falvey
Thanks Maria, and we are glad the rain finally came last year to Austin, Texas to relieve the heat and humidity. Happy Sunset Sunday to everyone, especially those waiting for some rain.
Maria Falvey, Founder and Editor of Maria Falvey… Often in an Accelerated Stall (not your usual travel blog, by any means) takes on a unique and quirky nature, encapsulating events and observances into literary snapshots.  Also, make sure you follow her on Twitter: @acceleratedstal.