For the last ten years I've been blessed with the opportunity to attend many of the ATMEX (Adventure Travel Mexico) conferences as hosted media. Through all those years and all those adventures my love for Mexico has  continued to flourish  Now for the 10th year, Guanajuato will play host and I can't wait to experience this destination, especially since I will also take on a new adventure (for me) with hot air ballooning. Yet the highlight of this conference will be the opportunity to share my voice on the keynote panel, "Voices of ATMEX: 10 years believing in adventure."  As you may know, I certainly believe in the adventure of Mexico.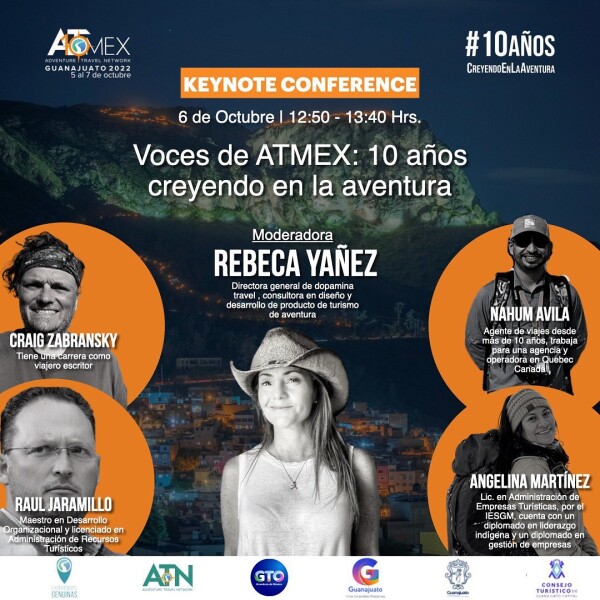 To highlight this milestone anniversary, I decided to identify ten unique and amazing ATMEX adventures I experienced during my days in Mexico attending these conferences. I plan to share both extreme adventures and also unique mind shifting moments  This curated list of ten also attempts to include most of the host destinations too. Honestly,  there was so much to choose from, and since I could not include them all, here are ten adventures to add to your travels in Mexico.
1. White Water Rafting in Jalcomulco
The first few ATMEX conferences were held in Veracruz. The port city offers much to the traveler.  I learned many things about Veracruz when traveling there and one cannot miss in this state is a trip to Jalcomulco. Adventure seekers flock to this small town of for its access to launch spots along three rivers; the Rio Pescados, Rio Actopan and Rio Antigua. Filled with class III and IV rapids, the waterways intensify even more in the late summer rainy season when it is widely known as the best whitewater rafting in Mexico.
2.  Snorkel with Sea Lions in La Paz
There is no shortage of things to do on a visit to La Paz, but the capital of Baja California Sur remains most famous thanks to oceanographer and marine conservationist Jacques Cousteau. He nicknamed this Mexican destination "the world's aquarium" and visitors find it easy to understand why.
Any trip to La Paz must include time on and also in the water. When I put on my snorkel gear it was not to see the fish (although I did appreciate a school of sardines), but to swim in the Sea of Cortez among the playful pups. Here swimmers can experience the intense curiosity of the local sea lions up close and personal.  It will wake you up more than a cup of coffee. Then on the trip back from colonies, make sure the adventure includes a stop at one of the nearby pristine beaches along the protected waters around Espíritu Santo Island.
3.The Waterfall Rappel of Malinalco
A rappel down a waterfall was an adventures available in many adventure travel destinations in Mexico.  My adventures in Tuxtla, Chiapas included one memorable as it was one of my first ever rappels.  That trip also included another rappel down the sinkhole of parrots. Both incredible, yet it was the pueblo magico of  Malinalco that provided access to a 57 meter decline though a waterfall at Cascada del Obraje that truly left the biggest impression. Just an incredible wet and wild moment, check it out on my YouTube channel > here.
And the magic of Malinalco goes well beyond just rappel, put canyoning, cliff side cave camping, mezcal tours, and more on your list what to do in Malinalco
4. Soaring in Valle de Bravo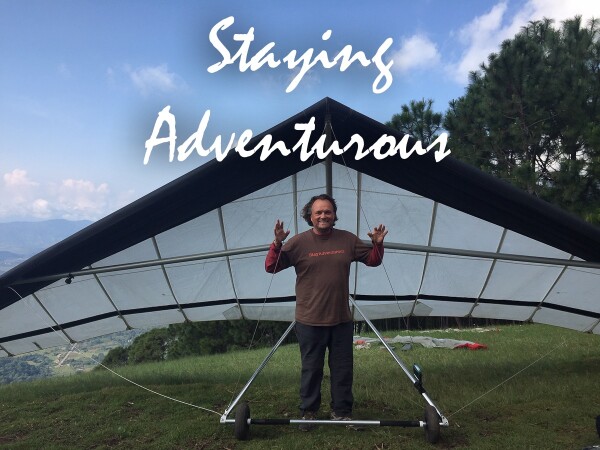 The magic town of Valle de Bravo, served as another excellent host destination and its day of adventure held many options.But the choice was was simple for me.
I wanted to fly. Sign me up to hang glide.
Actually, the best hang gliders in the world travel to Valle de Bravo  because very day is flyable. In Valle professional flyers compete in international competitions and even train here as many day tripping thrill seekers find safe flights through the countless schools and guides offering packages to travelers. Even though weight limits might dictate flight access because up here it is the lighter the better,  thankfully, I found a brave pilot who trusted me. We ran tandem in step to leap off the cliffside and let the thermals take us up to soar in the skies of Mexico.
5. Hiking the Sand Dunes of Magdalena Bay
Loreto, originally slated to host ATMEX (eventually served as a virtual host), was a place I really wanted to visit, but the pandemic put it on hold for a year.  The following year, the lure of Loreto remained strong and I received the opportunity to visit the region and with days in Loreto, Mulege and then across the desert to Comondu.  Of my time here so many adventures stay with me. One clear highlight, (image used for my conference headshot) was hiking on the sand dunes on the coasts of Magdalena Bay.  This hike was just one of the many adventures from Puerto Aldofo Lopez Mateos that don't involve Grey Whale Watching.
6. Diving for Queen Clams in Mulege
Culinary adventures await all of us who visit Mexico. The food remains so diverse across regions and so delicious everywhere. Plus no ATMEX adventure doesn't include one evening socializing with fellow attendees after hours searching for late night street tacos. I can't wait for this year's taco run, yet, one of the most memorable culinary adventure departed Mulege .
Here, I found myself diving deep in Conception Bay to dig up the local Queen (Chocolate) Clams from the depths of the seabed, a luxury of Loreto.  I dove with a local guide to find clams (5 meters deep) and then eventually scallops (10 meters down.) I "harvested a few clams, but thankfully the feast did not depend on solely on me, as the fellow "fisherman" and professional dove deep to capture more clams and all the giant scallops. We would later eat the shellfish along with fresh Trigger fish ceviche caught off the boat on a local island beach.
7. Tasting Rum in Colima
The culture, cuisine and colors of Colima made for a great host site of ATMEX. Many adventures took place focused on its local Volcano. But one of my major surprises came from its culinary scene based on its volcanic soil.
Here I tasted not tequila, but the local rum. Yes, rum. Award winning Mexican Rum.
I always appreciate the many unique drinks available in Mexico such as the drinks of Chiapas and always share the culture through cuisine aspect of my travels, but the volcanic soil here is not unlike the location of the award winning Guatemala rum, Ron Zacapa. So, apparently it's not just Tequila in Mexico anymore, but Rum too.
8. Visit Archeological Sites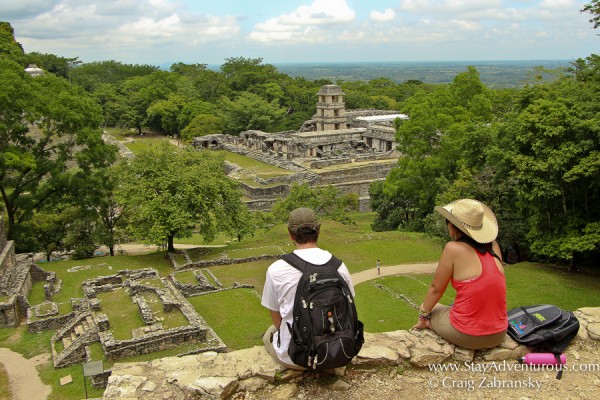 Many Mexican adventure travel destinations offer insights to the local indigenous culture and its remarkable past through visits to archeological sites. From my time in Veracruz, visiting coastal ruins of the first to "greet" Cortez to places of Mayan significance such as Comalcalco in Tabasco essentially the birthplace of chocolate.
In Chiapas, the Mayan Sistine Chapel in Bonampak impressed and so did the host archaeologic site. After attending ATMEX in Palenque, I spent a few hours walking the Mayan site of Palenque, an incredible place and clearly one of the highlights from my first travels to Chiapas, the frontier of Mexico.
9. Caving at El Chorreadero in Chiapas
If I need to pick a top adventure, a favorite, it would be difficult. Actually it was difficult to narrow a list to ten to be honest, but if I must I'd select my #1  – caving in El Chorreadero outside of Tuxtla Chiapas, the adventure capital of Mexico.
In a country, where Nat Geo continues to search for the deepest cave in the world, novice canyoneers who want to experience spelunking complete with tactical climbs, crawl space crevices, rappels, and the opportunity to navigate interior waterways (including 9 meter jumps in the dark) sign up with a guide to traverse El Chorreadero.
Visitors come to explore this cave from all over the world as more experienced tackle a full day with 12-16 hours inside the waterways of the cave, while brave beginners can select a 4-6 hour adventure.  There are plenty of quality adventures in Tuxtla Chiapas, but put El Choredeado on the top of the list, all lists.
   10. Chasing the Sunset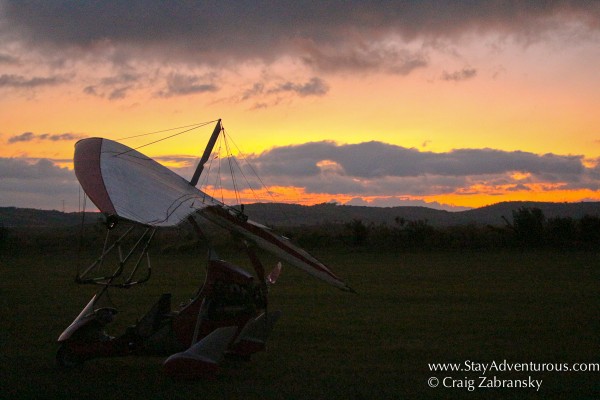 Sunsets end the day. And chasing Mexican sunsets will also end my list of 10 top adventures for ATMEX. Nearly all my ATMEX trips to Mexico showcased a sunset that found its way into my Sunset Sunday Series. You may ponder how or why taking in a sunset as an adventure, but it is often the sunsets after an adventure that give you a chance to reflect on the moment itself.  And these moments provide beauty to the day and help create a connection to the people and place. These sunsets  can cement the memory of the journey to Mexico itself.
If I had to select my most adventurous ATMEX sunset I would highlight the one after taking flight in the ultralite outside of Valle Bonito not too far from the sinkhole of parrots in Chiapas. In fact we flew over the sinkhole from above on the flight itself.
This day, I had the pleasure of the last flight of the day before darkness descended. My flight included the opportunity to appreciate some of the golden hour from the sky. It surely helped put a bow on my adventurous day in Mexico.
What's Next for Adventure in Mexico?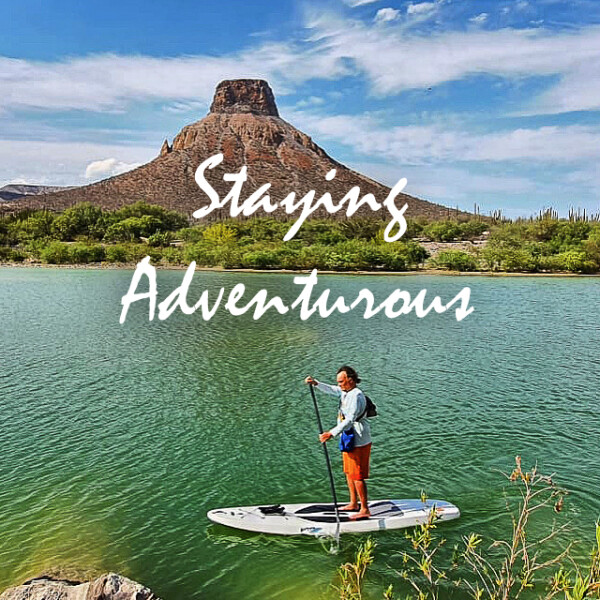 I believed in Mexico when I first started travel writing (blogging) and those beliefs eventually connected me with ATMEX. Now ten years later I still believe, and honestly have more faith than ever working with some many talented operators and experiencing (and learning about) so many transformational adventures available inside  Mexico over the last decade.  Each trip south of the border reinforces my belief in this vast, diverse and remarkable adventure destination.  Even after all my global and US travels, Mexico remains one of the most magical places to visit in the world and I have the evidence to back up the claim too.
As I continue my journey, I find myself smiling when I read other longtime travelers, friends, discovering so much more about Mexico. Did we or did Mexico reach a tipping point? Will more and more travelers plan to visit Mexico to experience all the adventure travel opportunities available? I can't answer that, but I can share I'll continue doing my part to inspire you to take make adventure in  Mexico through my writing, podcasting and photography. All I ask is you do me one favor – write me back when you realize the true danger of Mexico is falling in love with her.
Stay adventurous, Craig