"You need to take a step and then jump," instructed the guide as I approached the ledge pondering the eight-meter plunge into the pool of refreshing water below. The narrow ledge could not support both feet so there was no chance to stop and freeze with fear on the edge. This jump needed to be all in a single motion.
After two hours of caving and canyoning inside Chorreadero cave, I took the leap of faith and plunged into the abyss lit only by our attached headlights with complete exuberance. After the splash, the adrenaline rush made it a quick return to the surface and short swim to the others across the pool of water. There we all waited for everyone to complete the jump before getting instructions about our next obstacle to overcome.
The chance to stay adventurous comes easy in this part of Mexico. Tuxtla Gutierrez an adventure capital in Mexico is also the capital city of the southern state of Chiapas. The destination offers a plethora of outdoor activities that push both physical limits as well as mental limits for the novice and the expert.  Here are adventures to consider when traveling to Tuxtla.
Tzimbac Adventure Park
Inside this adventure park, visitors hike to discover the flora and fauna of this part of Chiapas, and then also have the chance to rappel down a waterfall with a 100+ foot drop.
I'll admit to a rough start for me, as my first real rappel adventure of this magnitude, but once I recovered and calmed from an early fumble, I actually enjoyed the experience. Plus, this step was a required one to gain confidence and technique for future rappel activities in Sinkhole of Parrots, Chorreadero Cave and more.
Sumidero Canyon National Park
The options to appreciate and marvel at the beauty of Sumidero Canyon are available across many activities.
 Hike Cañada Muñiz
Perhaps the most engaging way, a hike led by Eco-Experiencias, allowed us to directly descend from the roadside to the canyon water through Cañada Muñiz. The four to five hour hike down the canyon challenged, but also provided plenty of picturesque scenes with countless butterflies including the Blue Morpho.  From there we boarded a boat with a needed refreshment( cerveza) to pass through the canyon on the river.
Canyon by Boat
Boat passage does not need to be picked from the hike, but can be arranged from riverside towns such as Chiapa de Corzo, a cultural magic town (where we were dropped off).  On the boat, passengers will witness unique rock formations, and see monkeys, crocodiles, birds and more and cruise through the Canyon's incredible beauty.
Mountain Biking Sumidero
Another adventurous option is mountain biking down from the top of the national park. Guides from Enbicando enable us to ride the mostly downhill roads stopping at vista lookout to appreciate the different parts of the canyon. Also, available as a stop was a mountain bike course to test your skills other than intense braking required for the downhill that tests your limits for speed along the edges of the mountainside.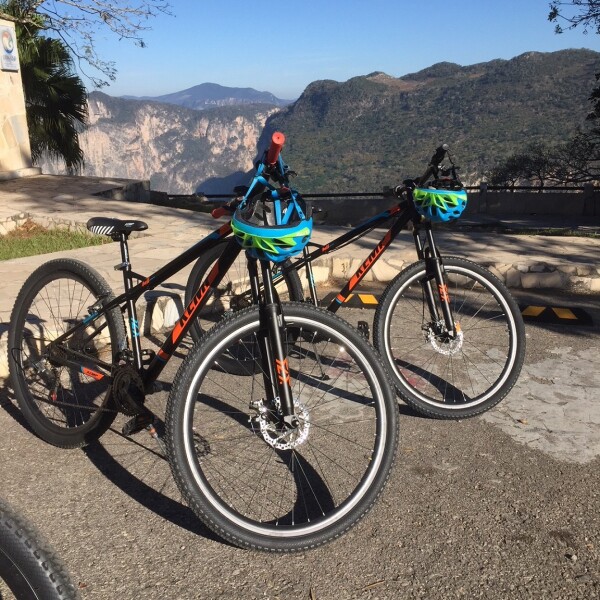 Chorreadero Waterfall Cave
Visitors come to explore this cave from all over the world. Experts tackle a full day with 12-16 hours  inside the waterways of the cave, while brave beginners select a 4-6 hour adventure that includes tactical climbs, rappelling, water slides and the initial mentioned – leap of faith -jump.
The impressive Petra Vertical Trip Advisor rating does not come as a surprise once working with Carlos and his expert guides.  This  incredible experience pushes the limits of everyone both physically and mentally. At times, you may forget you are inside a cave system until everyone switches off the lights and it becomes completely dark. Plus, with limited light this adventure is not conducive to taking photography, not that I would as intense concentration is required.
Sinkhole of Parrots
Located inside El Ocote Biosphere Reserve and created by nature's erosive forces, the sinkhole of Parrots or La Sima de las Cotorras was formed when the limestone eventually collapsed and created a massive hole. Now this unique landscape serves as home to myriad of birds including hundreds of parrots. Here, the rappel lines don't allow you to use you feet against the mountainside, but just dangle over the edge over 140 meters up.
Although not any more physically challenging, the adventure certainly offers a mental challenge of dangling and working yourself down.
To appreciate the gravity of the drop and the size of the sinkhole itself, visitors can take to the sky, thanks to Captain Richie and his ultralight aircraft located at Valle Bonito Air Strip just a few minutes from the Sinkhole itself. Although not recommended at sunset because of increased chances of winds (conditions may cancel flights) I did have the chance to take to the sky and experience the sinkhole sunset in Chiapas.
Aquacero Waterfall National Park
Here, waterfalls will delight and refresh once you walk the 700 plus steps to the bottom. Inside a shallow river with small pools, you can refresh and relax with a view of incredible waterfalls. And when adventurous, you can climb the easy and surprisingly not slippery terrain to stand under massive falls and get that massage required after so much physical activity inside the adventure capital of Chiapas.
Although, we only spent just a few hours camping is permitted as we noticed some tents included a family spearfishing for dinner.
For more details on this part of Chiapas, Mexico, including what to drink in Tuxtla,  listen in to my recent Staying Adventurous podcast – The Adventures of Tuxtla and learn more about how this destination will test your adventurous ways. It certainly did for me.
Stay adventurous, Craig
I was invited to partake in a ATMEX adventure FAM trip to Tuxtla. All the opinions and words (and most photos) in this story are, as usual, my own.