"Go west young Mayan," if such a phrase was coined back in the late classic period of the Mayan civilization travelers would have journeyed to Comalcalco in present day Tabasco, Mexico. It would not be for the search for gold, but probably for the prized produce of Cacao (present day chocolate.)  Here at the western edge of the Mayan world, the Cacao, a fruit harvested and then prepared into a ceremonial drink for the priests and Mayan elite grew in abundance. It still is harvested in this part of Tabasco today too.
Comalcalco offers much more to the traveler and even the academic studying the Mayan world. First the edifices, the structures and pyramids were made from fired clay bricks – not limestone rock. Some academics believe it holds relations to Rome?  The building blocks were first dried in the sun and held together with mortar likely made from oyster shells, another resource still plentiful in this area of Mexico. Also, discovered are "fingerprints" on the brick themselves, a signature of sorts – all still a mystery of this Mayan city.
Start Inside the Museum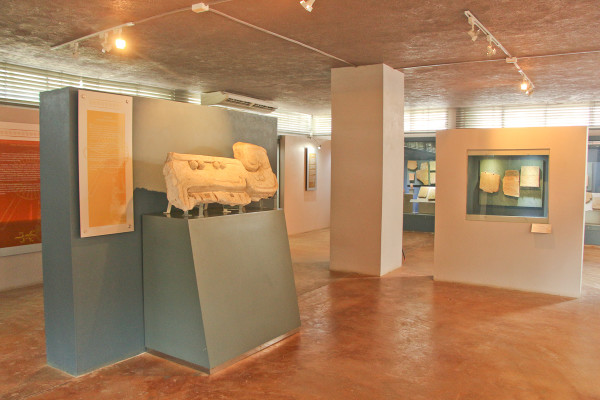 To learn more about the site, start at the museum. At times it will also make a great escape from the humid heat or any rain. Inside the signage is posted both in Spanish and English to enable more of us to  understand the history of the Mayan world and specifically this city including its relationship with Palenque. From its unique burials to its unique art, the Mayan World was a bit different on its western edge.
Also this site has history dating back to the 2012 doomsday scenario with a discovery known as the Comalcalco Brick.
North Plaza of Comalcalco
Once you start to walk into the site itself, the first building you'll see in Temple I (makes sense). And it is an instant photo opportunity. The 66 foot tall pyramid dominates this plaza and allows visitors to instantly notice the different style of buildings found here including some of the unique brick work.
Great & East Acropolis at Comalcalco
Most of the other main structure are part of the Great and East Acropolis. Here the buildings do seem to connect and visitors are allowed to walk on the stones themselves to take in better views and gain deeper appreciation for the site.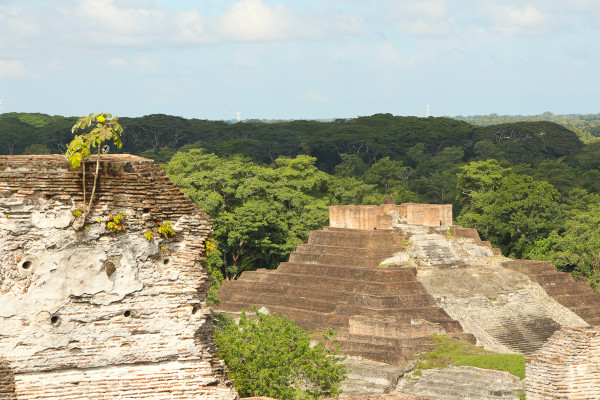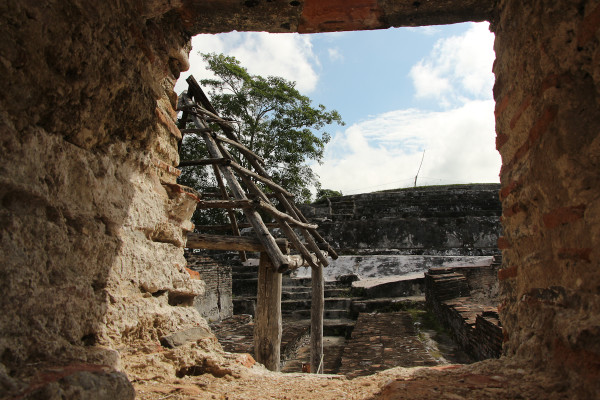 No doubt this is a different type of Mayan site than perhaps the Big 3 Mayan Ruins near Cancun and the Riviera Maya, but that is what makes it so worth a visit. And to help you, I outlined a few travel tips.
Mexico Travel Tips
The closest city to Comalcalco is Villahermosa. The hour ride to this part of Tabasco makes for an easy day trip.  And when you do decide to make the trip, here a few things to consider or prepare for when "going west."
Prepare for Spanish Guides. The tour guides, if you hire one, will most likely speak Spanish and little English, so make sure you read up on the site in the museum before walking the grounds.
Dress properly. Wear comfortable walking shoes to enable you to climb hills, and some stone steps that may get slippery when wet. This site did not test me like my trip just before arriving to Tabasco, the adventures of Tuxtla, Chiapas, but it did leave a few fellow tourists a tad challenged, especially in the heat. Just be aware of this for any archeological site.
Be prepared for a hot sun. With limited shade, you will be in the sun so wear sunscreen, hats or even bring a parasol (umbrella) for cover.
Bring extra pesos. Of course, you do need to pay for entrance, but also keep some spare pesos to purchase an "aqua fresca" such as a limonada or other "fruit–water" beverages. With such fresh fruit  in this region of Mexico , it is a perfect way to celebrate your arrival and also recharge in the mysterious Mayan site of Comalcalco.
Stay adventurous, Craig
This trip was part of my Day of Adventure during ATMEX held in Villahermosa, Tabasco. My tour was hosted, but as always the images, words, and opinions are my own This is also part of Mexican March Madness, although for 2018, it is more like MexMadness since we are extending it into April too.