I recall looking out the window and seeing nothing but urban sprawl as far as the eye could see; it was Mexico City.  When I first set off on assignment to the city of over twenty million, I wondered why I agreed.  Everyone I knew warned me about the dangers lurking in the capital city. Were they right? Could they know? How, if no one I knew ever visited the city besides my parents in ~1970?
Today, five years later all you seem to hear is about the dangers of the entire country.  Most people consider me "too adventurous" for even crossing the border once let alone a few times a year. But, do people realize how big, diverse and wonderful Mexico really is? Have they visited? Do they even own a passport?
Yes, much has changed since my visit in 2006. I am not saying the nation is not without it's issues, which country isn't? But what I will tell you is that I learned much about Mexico and I believe I discovered its true danger. The danger of falling in love with the country. And I have fallen. Fallen hard.
My romance has not gone unnoticed either. My readership is aware, my friends, family and employers know too. Then, just last month I received an email in my inbox. The email was an invitation to be part of a social media program aimed to tell stories about Mexico. The compensated opportunity consisted of the chance to meet and work with a team of fellow "Mexican" enthusiast bloggers from the United States and Canada, a visit the city of Oaxaca, and the opportunity to become part of the Mexico Today program as "an ambassador."
This was big. Huge. Most of my published freelance involves stories on Mexico, but now this was working with Mexico tourism and a major advertising agency – Ogilvy.
Humbled and excited, I accepted and traveled to Oaxaca for the kick-off event.
Now after returning from charming colonial city, I am thrilled. The people I met, the city I explored, and the opportunity ahead all re-energized me. I wrote  Why I Love Mexico after attending a Mexican Tourism Board road show last summer. My reasons haven't changed. In fact, my admiration only grows after each visit and now as an ambassador my role grows too.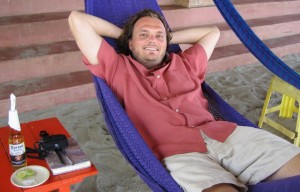 To put it mildly, I am excited to be part of this amazing team of professionals. I am excited to continue to educate, enlighten, and entertain people through my adventures in Mexico. So relax, kick back, and continue to enjoy learning about the true danger in Mexico, the danger of falling in love with it.
Stay adventurous,  Craig
Mexico Today is a joint public and private sector initiative designed to help promote Mexico as a global business partner and an unrivaled tourist destination. I am being compensated for my work in creating content as a contributor for the México Today Program.  All stories, opinions and passion for all things México shared here will continue to be entirely my own.