La Paz appeared near the top of my list to visit in Mexico for years. My past Mexico travel and adventures often brought me close too. I almost took the ferry ride from Mazatlán and even debated the desert drive from Todo Santos once, but I never made it to the capital of Baja California Sur until recently. And after my adventures, I already know I'll be back again.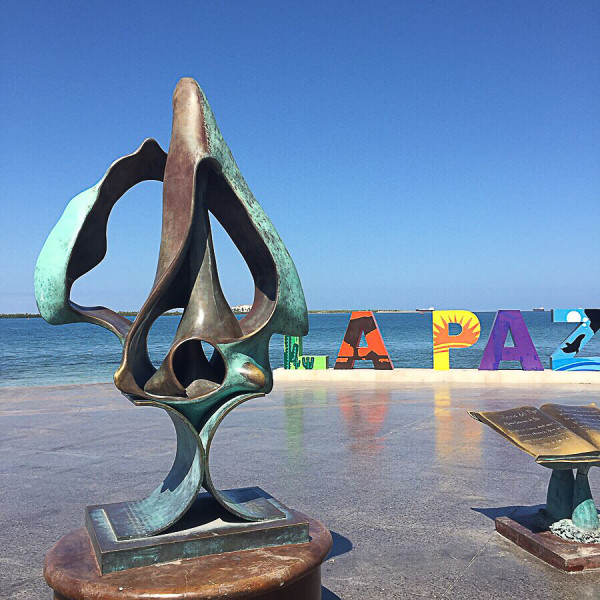 My time, like many trips was too short, arriving before attending ATMEX (Adventure Travel Mexico) conference my schedule only provided for a few days. Yet in that time, I  thoroughly enjoyed the destination and can certainly provide some quality insight on some must dos or adventures to consider for your visit to this peaceful place on Mexico's Baja peninsula.
1) Plan for a Beach Day on Isla Espiritu Santo
This is not your stereotypical Mexican beach holiday destination. As a naturally protected island and designated as part of a UNESCO Heritage site based on its extraordinary biodiversity, the pristine beaches that surround the island are only accessible by boat. A simple day excursion can be arranged easily in La Paz and local boat captains will navigate the beautiful bays and pack a tasty lunch (and cervezas) for a midday picnic on the trip to Isla Espiritu Santo and its many beaches.
Definitely consider Playa Bonanza. This 4km soft white sand paradise coupled with crystal clear waters remains idyllic.  In fact, an image from my time there made the Stay Adventurous 2020 Travel Calendar titled Bucket List Beaches. You can still order your copy here.
2) Dive with Sea Lions and More
Perhaps the top to-do for many who visit La Paz, and definitely a major reason La Paz was on my list to visit in Mexico was the opportunity to swim with sea lions. Easily reachable by boat for a day trip (easily combined with the beach day-above), takes visitors to one of the many sea lion colonies in the area.  Then its time to put on your flippers and dive in the water to snorkel or even Scuba alongside them.
These playful pups are as excited to see you as you are to see them. Many younger ones will often swim right up to you, around you, and even under you. They determine the experience and are even known to swim up and nibble on your gear like a true puppy in an effort to say hi.
Always with a trained guide, the swim with sea lions is monitored and completely safe. Actually,  the memorable experience will most likely be something anyone brave enough to enter the water will never forget. Also, there are plenty more than sea lions to dive with in La Paz. Whale Sharks arrive in late October for a few months and a chance to swim alongside these creatures remains on my list and is something highlighted on 20 things to do in the 2020s.
3) Walk the Malecon
The walkable waterfront remains the main place for locals and visitors alike to spend time and take a seaside stroll.  Lined with cafes and restaurants the 5 km malecon, in the midst of a renovation (started in 2017), also showcases multiple sculptures highlighting history from the city. From its pearl diving past a giant pearl sits inside a shell along with plenty of marine animals sculptures such as sea lions, a whale shark, hammerhead sharks, grey whales and more all decorating the malecon. Even a Jacques Cousteau sculpture complete with SCUBA gear sits on the malecon to remind us all how La Paz is a gateway to what he called the "Aquarium of the World."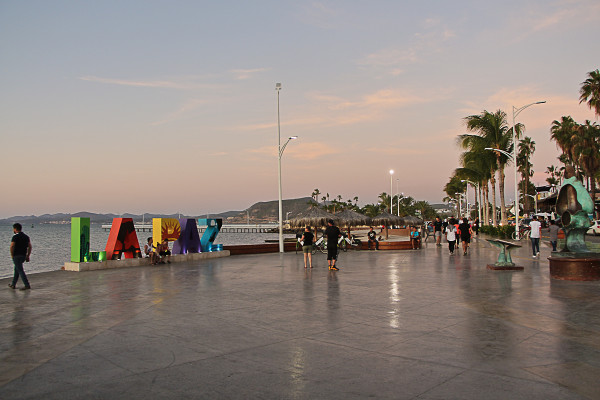 Of course one always stops at the LA PAZ sign itself to take a selfie or even capture the La Paz sunset.  But whether it is an early morning run or an evening walk, time will pass pleasantly on a seaside city stroll with plenty of places to take in a meal, art, or even a midday cerveza.
4) Hike the Sierra La Laguna
For some the length of the malecon may be enough steps to consider a hike, but for those interested in mountainous terrain, incredible views and higher elevations (above sea level) the mountains of the Sierra La Laguna are a short drive away and offer a multitude of hiking opportunities. Travel up inside this protected biosphere to discover its trails, diverse flora and fauna, and to also meander the from ranch to ranch.
A visit with the "Rancheros" (ranch owners and workers) can teach how to make tortillas, local cheese and even provide the opportunity for all meals as well even serve as a place to spend the night.  Glamping opportunities exist with the chance to appreciate the star studded sky.
5) Become a Birder
Oddly enough there is no need to travel far from the city limits to see massive amounts of birds. Both migratory and also endemic species can be found in La Paz.  Of course adventures in the altitude of the Sierras or the protected islands will afford opportunity to witness different birds, but novice birders and bird nerds alike can both appreciate the local mangroves found on the edge of La Paz with help from RedTravel Mexico and discover a plethora of birds.
As a sample, just one hour provided me with the opportunity to see Yellow Footed Gulls (endemic); Sandpipers; Reddish, Snowy and White Egrets; Ibis; Brown Pelicans; Marbled Godwits; Royal, Elegant, and Caspian Terns; Long billed Curlew; Greater Yellowlegs; Doves, and probably more.  Birding is growing here and with good reason.
6) Dine Out and Dine Often
Don't forget not only is La Paz a popular tourist destination, the capital city of the state of Baja California Sur with a population of three hundred thousand, but it is  also on the coast with access to the Sea of Cortez and the Pacific Ocean. Plus with a unique past of immigrations from Europe and Asia (one can still find Chinese families running restaurants) and a Spanish colonial period, there are plenty of influences on its culinary scene.  And a scene it is indeed.
From seafood filled tacos to fine-dining, the cuisine options in Baja California will certainly provide for a quality meal on any price scale. From my time, beside local tacos, I can also recommend Sorstis, as a top-notch Mediterranean dining option.
7) Walk the City Too
Of course one can always attempt to find a cathedral or church in any Spanish colonial city and the architecture and art normally will impress.  La Paz has both the Cathedral of La Paz and also the Our Lady of Guadalupe too. But with so much to walk between the two in a city it may be best to take a walking tour to learn about the history, art and more.
My tour founds its way to Big Sur Organic Coffee in the midst of neighborhood known for its mural art.  Inquire inside with a coffee with a barista or the patrons and you can learn more about the messages and reasons for the art on display.
For my next visit, I know I'll explore deeper and have a chance to spend more time in the waters and also appreciating all they offer this destination from its history, eco-tourism adventures, cuisine, and culture to this region.  See you soon La Paz.
Stay adventurous, Craig
I visited La Paz on a FAM trip working with the La Paz Tourism