Playa. The word translates to "beach" in Spanish, but let's also remind ourselves, "playa" contains the English word "play." "Play" and "Beach" is a great way to start to understand Playa del Carmen one of Mexico's most popular beach towns in the center, or rather the heart, of the famed Riviera Maya.
Playa del Carmen, the Heart of the Riviera Maya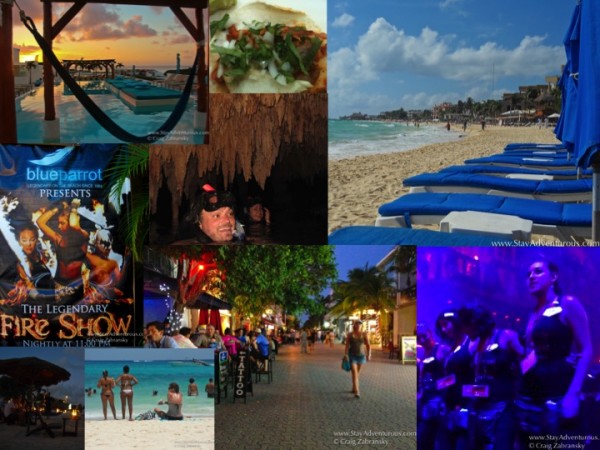 Come along with me as I explore or play in Playa providing you with the best Mexico Travel Tips on the best things to do in Playa del Carmen along with where to watch the sunset and my travel takeaway, a souvenir, the staying adventurous mindset moment.
Through the episode I share many of my experiences in Playa del Carmen but also interview four people who know the town, the scene, and how to enjoy your time on holiday in Playa del Carmen. I speak with Kelly of Cancun Canuck to discuss beach life and differences between Playa and Cancun in the Riviera Maya, a restaurateur to explore the growing foodie scene after dinning at award winning Plank, a host from Playa del Carmen TV and the sales manager from Palm at Playa the place I stay on my last visit.
Listen in and enjoy… hit "play"

staying adventurous, Craig
Staying Adventurous Show Note Links
Stay Adventurous Stories
Mamitas Madness, spending time at the Popular Beach Club
An AllTournative Cenote Experience
Best Tacos in Playa – the el Fogon Conclusion
X Marks the Spot – Xcaret
Where to Stay – Hacienda Tres Rios
The Magic of Mexico and Me
Sunset Views
Sunset Sunday – Playa del Carmen (from Fusion)
Sunrise from the Hammock at the Palm at Playa
Maya Ruins
Tips on the Big Three Mayan Ruins
Walking Tour of Chichen Itza
Four Ways to Appreciate Coba
The Beach at the Tulum Site
Stories Written by / with Craig Zabransky
the 5 Download-able Guides of Playa del Carmen (EveryTrail)
The Romance of the Cenote  (Trivago)
The Playa del Carmen TV #Mexchat video (it's in Spanish, I speak English at 1:58)
Other Podcasts Episodes Mentioned
The Taste of Puebla
The State of Yucatan
Interview Links
Kelly of Cancun Canuck
the Palm at Playa
Plank
Playa del Carmen TV
SPONSOR
Stay AdvenTours Book Your Travel to Mexico City this October.