I decided to remain poolside and order another cocktail, I wanted to wait till the sun set to capture the golden hour's light and the views from the rooftop at the Palm at Playa. After an incredible social afternoon including a live #Mexchat and before a delicious dinner at Plank, I just wanted to relax and take in the magic of the moment with my fellow hotel guests in the Riviera Maya of Mexico hot spot.
I did.
Although, I know the sun doesn't set on the Caribbean Sea from this side like a sunset in Cozumel, but I do know how to enjoy a Playa del Carmen sunset from prior visits. And now I'd enjoyed another this time at the Palm at Playa Hotel in the heart of Playa Del Carmen.
Watching the Sunrise in Playa Del Carmen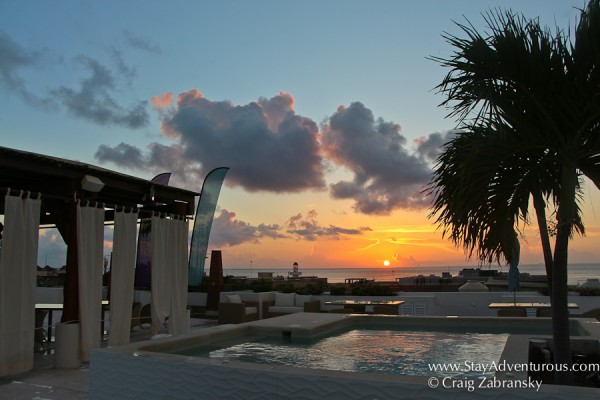 The next morning, I woke early with no alarm clock set. Apparently my body clock was set to see a rooftop sunrise. and I obliged. It wasn't the sultry scene from the prior evening lacking many of the beautiful bodies I noticed the prior evening, but it certainly was a beautiful moment.
I walked out to see the sun rise from the water then feeling the warmth of the new day, I retreated to capture the rays of light heating the pool. Then I decided to even retreat further to capture the moment with (in) a hammock. The very hammock I'd spend the next hour listening, feeling, and watching the day begin in Playa del Carmen.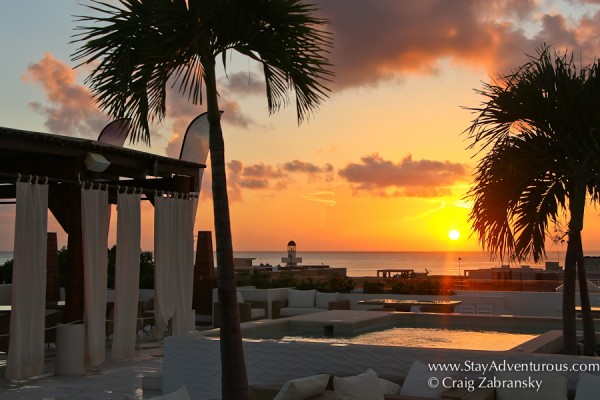 Travel Tip:
The Palm at Playa is well located in the heart of the action of Playa del Carmen. And even if you don't rest your head here and decide to call it home as I did on this trip,  a rooftop cocktail is a great start to an evening out on the town.
Stay adventurous, Craig
The Palm at Playa hosted me during my recent time in Playa for the November #Mexchat. See all the details on here > Mexchat