The state of Chihuahua became my first northern Mexico adventure when I crossed the border in a car to enter the country.  I entered Ciudad Juarez and discovered a vibrant community and the birthplace of the margarita. Chihuahua was off to an amazing start and it only improved with each day of the adventure.
On one of the last days, we stopped to learn about the mysteries of Paquime, an ancient civilization, and the renaissance (or rediscovery) of Mata Ortiz pottery.  Hand crafted once again near Casas Grandes, Chihuahua this special pottery known as one of the most innovative, remains regarded as some of the finest in the world. Plus, it makes for one of the best souvenirs from Mexico.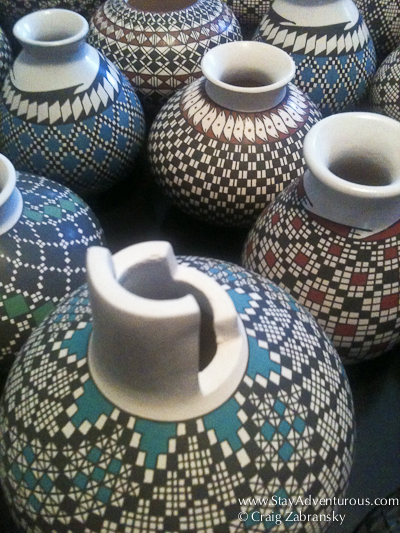 Best Mexico Travel Tips: What to Do in Chihuahua?
The must do thing to do in Chihuahua, Mexico is one of the world's greatest train journeys El Chepe through the Copper Canyon. Stops along the route make for an incredible journey whether it is taking in the sunset over Copper Canyon (Las Barrancas del Cobre), visiting Bisabirachi Valley outside of Creel or the adrenal rush of the Chihuahua Adventure Park. El Chepe remains the best way to see the state of Chihuahua.
Another must see are the Samalayuca Sand Dunes, just a little way from Chihuahua City. Next time I don't plan to just hike them, but actually so some sand boarding too.
Mexico Location: Where is Chihuahua?
Chihuahua, the biggest state in Mexico, is as large as Spain and is located in northern Mexico. Chihuahua is bordered by the Mexican states of Sonora; to the west, Sinaloa; to the southwest, Durango; to the south, and Coahuila; to the east. To the north it borders the U.S. states of New Mexico and Texas.
Stay Adventurous, Craig
This post is part of the Mexican March Madness 2015, a look at the 31 United States of Mexico in the 31 days of March. Don't miss a state, sign up for email updates > here.
Excited to learn more about Mexico, then travel with me and join me in on my first Stay AdvenTOURs and let's visit Mexico City.