For the fifth time, I am collaborating with my friends on a bucket list travel post and although I don't have an
"
official" bucket list, there are plenty of travel adventures and destinations I plan to visit and appreciate in my lifetime. And now each year I list one, an item that is on my mind and list to start the year as a tribute to a friend and a reminder to others to reach out to their friends
Anita Mac
In 2013, the travel blogging world lost Anita Mac, and many of us lost a friend. Anita inspired each of us differently. Some of us loved her huge, welcoming smile while for others it was her eagerness to help or even her colorful fashion sense. She provided a shoulder to cry for many of us and always seemed to have a willingness to comfort and listen to our issues. Anita still comes to mind often and especially during our travels, so each year since her death, our goal has been to remember her in some way. We want to pick up where she left off, as her blog focused on bucket list travel, so we are going to dedicate an item from our own bucket list to her each year.
We hope this reminds our readership of the wonderful world we live in, how we can all experience it, and how fragile life can be. For Anita…
For my 2017 bucket list post, I wanted to explore more of the Americas and visit new destinations in my own back yard. And I am happy to report I did. The year included a new country Honduras, multiple new destinations in Mexico including a visit to the "adventure capital" of Chiapas –Tuxtla Gutiérrez, and I even took a new route on my north-south New York to Florida road trip drive stopping in Asheville, NC and Gatlinburg, TN. A successful year that also reminded me how many more adventures still await in the Americas.
So for 2018, I decided to continue my mission and discover more of the "New World" for a second straight year. I'd like to visit a new state in the US and continue my quest to visit all 50 (I still have 6 to go – Hawaii, North Dakota, Kansas, Missouri, Nebraska, Iowa) and also visit a new state in Mexico – as I am dreaming of a visit to Zacatecas or even Campeche. Ultimately, I want to get myself back to South America with a visit to Peru or Ecuador.  I know when traveling to these new places and continuing to learn about my own continent will make Anita smile.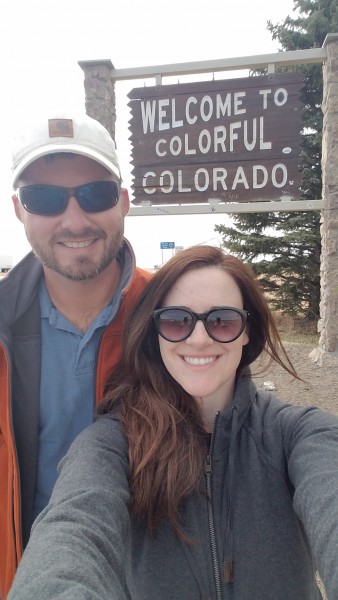 Last year, my goal was to finish up my states and see more of my country. Well, in March, I was able to reach that goal, at least partially. On one epic, month-long road trip, I was able to finish seeing the contiguous United States. The plan was to visit Alaska later on in the year, ideally on a road trip, however, when I returned home from the trip, I realized that I brought home an unexpected souvenir – I was pregnant! Which meant, my plans for adventure were replaced with plans for a baby. Alaska was going to need to wait.
Sure, I'd love to get to Alaska in 2018, but I think that this year, the focus will be on my little souvenir, Emerson, who was born on November 28th. Before he was born, we would call him the Little Wanderer, and this year, I'd like to start his wandering. While I am sure traveling with a baby isn't going to be easy, I am excited for the challenge. This year, I think we'll start off with places that are important to our family heritage. We'll take a road trip to visit family in Iowa and Colorado, and eventually make our way to Ireland. Even though he's too small to remember, I'd like to start off in the places we have roots. Plus, visiting and traveling with family will make things a bit easier for me and John. I'd like to think this would all make Anita smile, and I am sad that she will never get to meet my little Emerson. Though I am sure she'll be watching over us and all of our adventures, and I'll be sure to let my sweet boy know all about her and hers
Central Coast Cycle Club (New South Wales, Australia)
2017 was a busy travel year for the friends of Anita in the old Central Coast Cycle Club (New South Wales, Australia).
Lori and Greg spent around 3 weeks biking across Spain on the French Way of the Camino de Santiago (Way of St. James) Pilgrim Trail. We had many a laugh thinking of Anita doing her roadbike racing, as we lumbered along on clunky hybrid bikes and pushed them many times up muddy, steep dirt tracks next to the Pilgrim walkers. Meanwhile, fitter bikers would race past on nearby roads much more Anita's style! The entire trip included many mountains, including the Pyrenees, Basque areas of the Cantabrian Mountains, Montes de Leon and the O Cebreiro Mountains in Galicia, being a journey over 660 kilometers. There must be as many trails (and hills) to the church of Santiago (Saint James) as pilgrims, who travel from all over the world here. We passed Roman Ruins, Castle Walls, Old Forts, sunflowers, vineyards, corn and pumpkin fields, and rode over Cobblestone Streets through villages dating back to the Bronze Ages, on this historical track.
Tamara also kept herself busy in 2017, hiking as well as cycling weekends away. She did many explorations around Australia, as well as several overseas. One trip took her and Linda to Tasmania's pristine and stunning 3 Capes Walk near Port Arthur, and another to the Australian Alps –trekking near our tallest mountain, Mount Kosciusko. Tamara and Linda also went to a remote area of Indonesia, the Raja Ampat "Four Kings" Islands (West Papua Province), where the kayaking and snorkeling was superb.
In 2018, we are all looking forward with an island focus. Tamara, Greg and I have decided that a trip to the Cook Islands in the South Pacific is a good destination for our 2018 Travel Bucket List. Meanwhile, Linda is going to trek Honshu Island of Japan, on the ancient Nakasendo Trail that stretches from Tokyo to Kyoto, as well as cycling and hiking in Sri Lanka. Wish us luck, as we keep Anita's travel dreams alive!
Lori, Tamara, Linda, Stuart, Greg, Steve, Peter, Wendy, Susie and Howard
Closure
We encourage you to join us in this quest and take on at least one Bucket List item in 2018, but more importantly, we also hope you take the opportunity to (re)connect with friends and loved ones throughout the year.
The purpose for all of us collaborating and writing this post is not only to inspire others to travel the world and explore, but as a way for us to remind all of you who are reading this post (and us writing it) to look around, see who you can reach out to and possibly help them reach their goals, feel supported and most importantly loved. Our friend and fellow traveler, Anita took her life because she didn't see any other options, we don't want anyone else to feel that way.
Stay adventurous and tell us your bucket list trip you plan to make happen in 2018, Craig