For 2018, the Stay Adventurous Annual Travel Calendar takes us through the Florida Keys with the same passion for highlighting destinations as prior year travel calendars but this year it also serves a very distinct purpose. In its 5th year, the calendar-shifted gears to showcase a single popular road trip destination (and my home) – the Florida Keys with proceeds to be donated to Hurricane Irma Relief Efforts.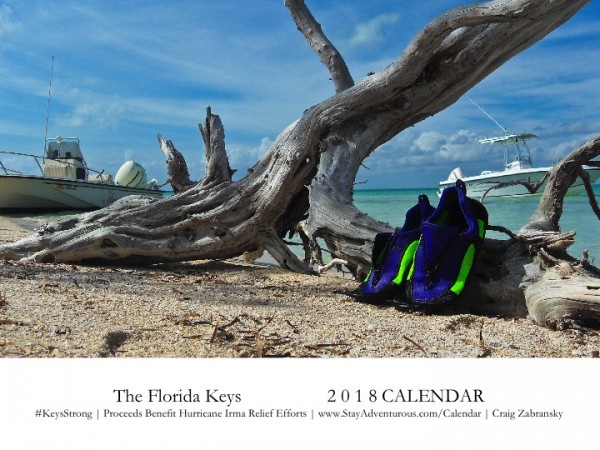 Hurricane Irma
On September 10th (almost two months ago now) the Florida Keys was directly in the destructive path of a massive Hurricane.  As a local I was under mandatory evacuation and left as the storm took its toll on the Florida Keys.
Today visitors can still see the damage with many people and establishments still cleaning up their homes, hotels, restaurants, marinas, and tourist attractions. An entire livelihood remains on the long road to recovery. And even with the incredible #KeysStrong Conch fortitude and the mounds of progress made, more will be needed to rebuild the Florida Keys. This effort will take time and resources.
So as a local, I decided to help.
Calendar Proceeds to be Donate to Relief Efforts
On every calendar sale made $10 of the proceeds will be donated to the Hurricane Irma relief efforts across four organizations. Each selected organization I either have first-hand knowledge of people involved or they have been recommended via members of my "Conch Republic" Keys family.
The funds are being allocated to the EvacuateesoftheKeys.org, The Vineyard Church, MM50 Relief Project and the KeysTeacherReliefEffort. These organizations and charities (and GoFundMe effort) will enable the locals to help weather the future financial stormy seas expected as the rebuilding process continues. See details > here.
Road Trip through the Florida Keys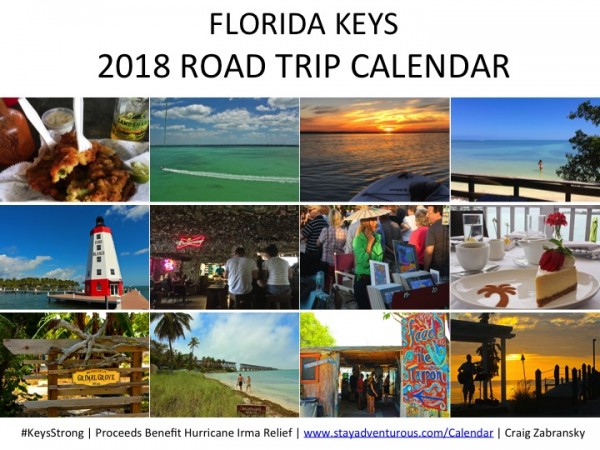 The calendar starts in the upper keys and navigates its way to Key West and then back up through the 100 plus miles of US1 with stops in Key Largo, Islamorada, Marathon, Big Pine, Key West and more.  Each place was selected because of its iconic value and the diversity of experiences available to the tourist in the Florida Keys. Essentially, this calendar serves as a bucket list on what to do in the Florida Keys as well as a reminder for everyone to come and visit this American Caribbean paradise in 2018.
Makes the Perfect Gift
Don't just order your copy, order copies as gifts for friends, family, colleagues, co-workers and more. Remember every sale benefits the families living and working down here who lost so much and are also helping recreate this American paradise.  It is a win-win for the holiday season.

Again, thank you for your support each and every year with calendar and especially for this year as the sales will help make a difference for a community in need. And who knows, perhaps the calendar will inspire you to come (re)visit me in the Florida Keys in 2018….I'm buying the margaritas when you do.
Stay supportive, Craig