It may a little late into 2019 when discussing a new year's bucket list dedication, but with a mission with to keep the memory of one of our friends, Anita Mac, alive and the opportunity to continue to raise awareness on what took her away from us, there is never a bad time. And well, with the recent Chinese new year celebrations just passing, maybe the timing still works for a new year's tradition.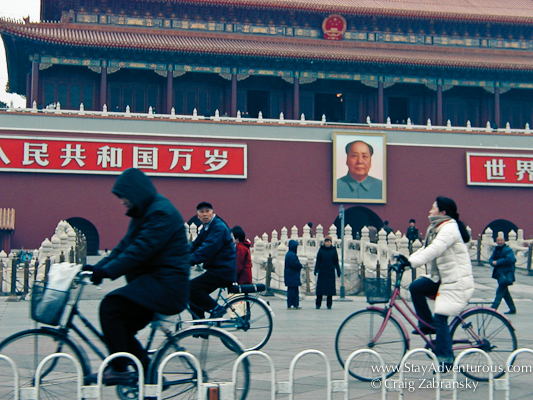 Also, special thanks to Lori and her cycling club from down under on taking the initiative this year to ensure we posted a  6th annual dedication.
Stay Adventurous – Craig Zabransky
Personally, as stated before, I don't have an official "bucket list," (yet) but there are plenty of travel adventures and destinations I want to (and plan to) visit to experience in my lifetime.
So, let me review what I planned to do in 2018 and also select a  bucket list adventure (or adventures0 for 2019.
Last year as part of my 2018 bucket list dedication I wanted to continue to discover more of the Americas. And although I did not hit all my destination targets, I did experience a new state in Mexico – Colima which appears as this month February in my annual travel calendar – and also discovered the incredible magic town of Malinalco. Still on my list – Zacatecas, and maybe 2019 will be the year to finally get there. Also, Peru remains high on my list again. I'll get there.
And as for the US, a massive road trip took me across new parts of the south and into parts of the Florida pan handle (did you know it is in the central time zone?), Alabama, Mississippi, Louisiana and eventually San Antonio, Texas where I attended the NCAA Final Four to watch the (my) Villanova Wildcats win their second National Championship in the last three years. What an amazing road trip.
For 2019, I definitely want to focus on my acting career more in taking on new roles including exploring the opportunity to direct. And I am doing it now as I am currently assistant director for Dixie Swim Club with performances this February and March in Key Largo, Fl. Come see the show.
Yet, I will need to travel too. Dream destinations still include Mongolia, Sri Lanka, Peru (to stay here), Portugal ( a career changing retreat in Lisbon), and even Australia (Lori, I'll definitely plan to cycle with you and your crew).
For 2019, I also want to make sure I visit one to two new US states and stay ahead of schedule to visit all 50 states before my 50th birthday (which is still a ways away, mind you). Maybe Hawaii finally or perhaps Missouri and Kansas on a baseball road trip this summer or maybe a return to a campus crashers road trip if I can swing the vote to visit Iowa?
Lori and the Central Coast NSW friends of Anita
2018 was an active year for all of us, and we mostly kept to the island focus of our bucket lists. Linda was in Honshu Island, Japan hiking and in Sri Lanka cycling and trekking; Tamara and Steve were camping in some of the stunning country and highlands of Australia, while Lori and Greg made it to the Cook Islands of Rarotonga and Aitutaki.   Rarotonga has mountain peaks we climbed for views across the island; Aitutaki has pristine motus where we swam with giant trevally fish.  Other islands visited by Tamara included Goat Island in Sydney Harbour, while Lori and Greg went to North Stradbroke Island by ferry and Bribie Island in Southern Queensland.
Tamara, Steve, Lori and Greg also enjoyed the ranges near the NSW/QLD border – the Border Ranges National Park, Mount Tamborine and the Glasshouse Mountains of the Sunshine Coast for Lori and Greg – while Tamara and Steve hiked the Gibraltar Ranges nearby.  Amazing country!  One highlight that wasn't an island for Lori and Greg was a trip to Broome in the Kimberly Region of Western Australia – where we took a day trip and sea plane to the stunning Horizontal Falls.
In 2019, Lori and Greg hope to see some of at least one more continent of the world – Africa – and also get to a few more Australian Islands – Goat Island being high on our bucket list!  Tamara is working on the Cook Islands still!  On a serious note, we have had at least two suicides affect the families in our group over the past 14 months, so please let's all try and take that extra step this year to be sure everyone we care for is really OK.  In Loving Memory of Anita – Her Friends from the Central Coast Cycle Club of NSW – Lori, Tamara, Linda, Stuart, Greg, Steve, Peter, Wendy, Gwen, Susie and Howard
For Anita Mac
In 2013, the travel blogging world lost Anita Mac, and many of us lost a friend. Anita inspired each of us differently. Some of us loved her huge, welcoming smile while for others it was her eagerness to help or even her colorful fashion sense. She provided a shoulder to cry for many of us and always seemed to have a willingness to comfort and listen to our issues. Anita still comes to mind often and especially during our travels, so each year since her death, our goal has been to remember her in some way. We want to pick up where she left off, as her blog focused on bucket list travel, so we are going to dedicate an item from our own bucket list to her each year.
We hope this reminds our readership of the wonderful world we live in, how we can all experience it, and how fragile life can be.
We encourage you to join us in this quest and take on at least one Bucket List item in 2019, but more importantly, we also hope you take the opportunity to (re)connect with friends and loved ones throughout the year.
The purpose for all of us collaborating and writing this post is not only to inspire others to travel the world and explore, but as a way for us to remind all of you who are reading this post (and us writing it) to look around, see who you can reach out to and possibly help them reach their goals, feel supported and most importantly loved. Our friend and fellow traveler, Anita took her life because she didn't see any other options, we don't want anyone else to feel that way.
Anita we still miss you.
Stay Supportive and Loving, ,Craig