The annual Stay Adventurous travel calendar returns again for 2021. Back for its 8th year, and once again a new theme was selected….
Europe by Foot
From the culture to the cuisine, the history and the art, the ancient cities to the charming cobblestone streets filled with cafes, bars and boutiques. Europe remains a popular tourist destination for many of us and since many of us did not get the chance to visit in 2020 (I had a trip canceled) and concerns exist for 2021, I have decided to keep us all inspired to travel to Europe, often site of our most fond holiday adventures.
So let's take a look at Europe by Foot.
2021 Stay Adventurous Travel Calendar
Ok, so where are we traveling to in 2021? Which European destinations make the calendar? For starters, I made sure to select  12 different countries one for each month. And each image was captured essentially when walking about the town or city.
All months were filled in on December 2nd, after the contest to win a travel calendar is completed, you can enter the contest through my post – Order the 2021 Stay Adventurous Travel Calendar – Europe on Foot
January – Santorini, Greece
February – London, United Kingdom
March – Amsterdam, Holland
April – Paris, France
May – Lisbon, Portugal
June – Figueres, Spain
July –  Melnik, Bulgaria
August – Venice, Italy
September – Prague, Czech Republic
October – Edinburgh, Scotland
November – Dublin, Ireland
December – Budapest, Hungary
As you can see, the travel calendar highlights popular destinations, but not popular attractions. It aims to focus on the times we spend walking through the cities and towns when discovering the views, the times when searching for a cafe, restaurant or bar. The times when walking about the city with the locals and enjoying places not filled with tourists. But don't worry, you'll see some iconic images too.
ORDER the 2021 Stay Adventurous Travel Calendar Today
Thanks again for your continued support through the years following the site, the travels and those who order an annual calendar. I wish you health,  happiness and success in 2021.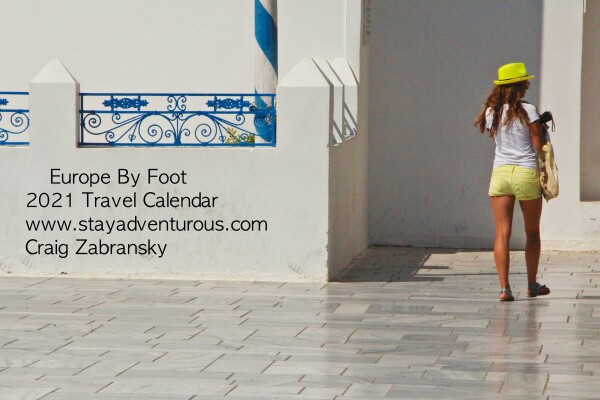 Order copies today for family, friends, co-workers and yourself.  Stay inspired all year; do not be without the 2021 Stay Adventurous Travel Calendar.
Happy New Year!