The annual Stay Adventurous Travel Calendar returns in 2017 with a new focus.
After three consecutive years of sunset calendars, based on the Sunset Sunday Series, this year I decided to base the calendar on the popular podcast segment the Stay Adventurous Mindset Moment.  It not only inspires us, but also reminds how we can shift our mindset and make each adventure even more memorable.
the 2017 Staying Adventurous Mindset Moment Calendar
Order a 2017 Calendar
With 20 episodes since creation, the Staying Adventurous podcast holds a segment to enable listeners to not just gather details aobut the destination (or theme) presented in the monthly episode, but also get a takeaway, a travel souvenir, from my travels to use on all adventures. It's a lesson and something to allows us to see all destinations and adventures differently.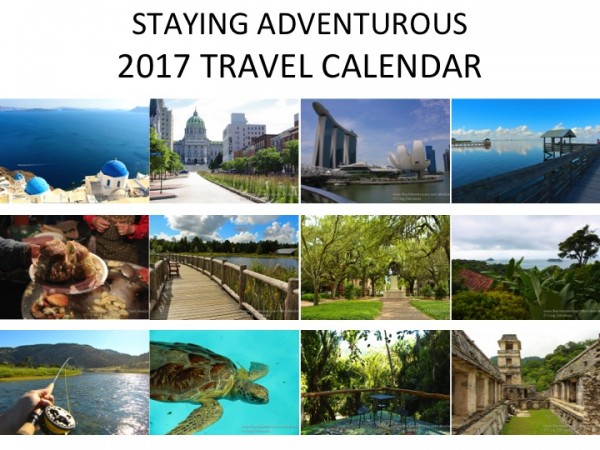 The months and destinations are as follows:
January:      Santorini, Greece,
February:    Harrisburg, Pennsylvania
March:         Singapore, Singapore
April:            South Padre Island, Texas
May:             Puebla, Mexico
June:            The Adirondacks of New York
July:             Savannah, Georgia
August:        Quepos, Costa Rica
September: The Missouri River in Montana
October:      Marathon, Florida (Keys)
November: Puerto Vallarta, Mexico
December:  Palenque Ruins in Chiapas, Mexico
The 12-Month Travel Calendar – includes inspiring images from across the States, Europe, Asia, Mexico, and Central America.  I selected 12 images from my adventures to showcase the destination and also represent the mindset presented during the destination's podcast episode. Each Staying Adventurous Mindset Moment is detailed on the calendar with its corresponding podcast episode number (ep 00) to allow you to locate any mindset moment you want to discover in greater details. will contain each mindset moment rerecorded to highlight See all my destinations and details at the Staying Adventurous Podcast page.
Also, COMING SOON, you can listen to all the 12 presented mindsets in the new audio book expected to be released later this month. The book, The Staying Adventurous Mindset moment; a collection of travel travel takeaways from the road,  will contain rerecorded mindset tips in a new order to allow you to plan, enjoy and reflect on all your travel plans. See all the details on the Staying Adventurous Audio Book page.
This calendar makes a perfect holiday gift for business colleagues, co-workers, clients, Secret Santa exchanges, family, friends, and also for yourself. Order the the 2017 Staying Adventurous Mindset Moment Travel Calendar and experience the Magic in Changing your Travel Mindset.