ORDER THE 2022 TRAVEL CALENDAR
The annual Stay Adventurous travel calendar returns again for 2022. Back for its 9th year, and once again a new theme was selected….
Culture Through Cuisine
Yes, we are talking showcasing food from across the globe.
Yes, the calendar of the past often showcases images of enticing entrees from the streets of Mexico to the cafes of Europe, but what I never curated until now is a complete calendar of food images. An entire journey across destinations in Asia, Africa, Europe and the Americas in cuisine. A chance to experience culture through cuisine as the calendar showcases desirable dishes from desirable destinations.
So, let's travel through food this year.  Join me, and stay hungry for travel and order your copy today.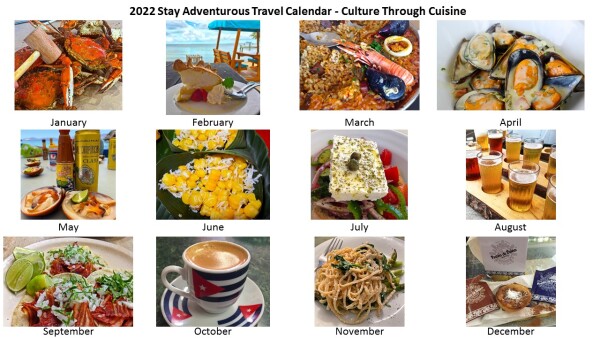 All images were inspired from my travels….
So make it point to try some of these 12 cuisines that make up part of the culture of the destinations listed in the 2022 Stay Adventurous Travel Calendar. Order your copy for friends, family, colleagues and yourself today.