Wondering how to fill up the stocking for the man (or men) in your life who behaved so well this year? Guys, wanta  few ideas to help on what to hint about to get your Christmas stocking stuffed?  Well, let me help you, below is a list of items perfect to fit into a stocking or to be used one of the 8 Hanukkah gifts.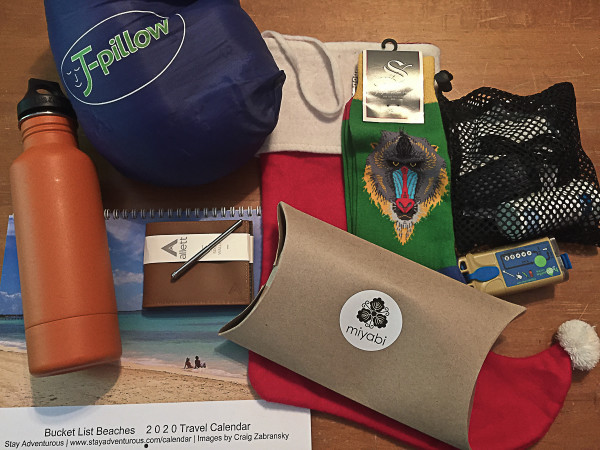 All gift ideas priced below $100.
The Bottle Keeper
Like cold beer? Prefer bottles? Appreciate science? Well then it's time to upgrade your koozie to the Bottle Keeper 2.0. This device keeps beer bottles, safe, secure and cold for all occasions. Find more details and reasons on my Bottle Keeper review.
Order your Bottle Keepers 2.0 here ($29.99)
The Allett Thin Sport Wallet.
Ok, it is rare men find themselves saying, "Hmmm, it's time for a new wallet" and then take action. The holidays are a perfect time to gift us a new wallet, especially one designed to be slim.  And don't forget to start us off with a little cash too inside for good luck, since you are saving 30% when you use the "stayadventurous" discount code until Dec 31st.
Order the Allett leather thin wallet now for $40 (take off 30% more using the discount code)
The Allett Micro-Pen
How many times do men find themselves searching for a pen, what if you can keep one in your wallet? Sure we can take a note via our smart phone, but we still like or perhaps need a pen sometimes. Problem solved with the Allett Micropen, this little gem tucks right into a thin wallet.
Order the micro-pen as an accessory to you allett wallet for $20. Remember the discount code works for the pen too.
Miyabi Bamboo Charcoal.
Coal of any kind is never something a man wants in his stocking, but when it is charcoal used for water filtration, it is not only a fun(ny) gift, but also a useful one.  Add a few bamboo char"coals" to tap water and let it filter.  Best part, if they are a gardener too, the charcoal becomes a perfect add to soil or compost.
Order you a 3 month supply from Miyabi for $17.50
H2gO Water Purifier
With an adventurous man who spends time "off the grid" deep into the wilderness or the developing world, or perhaps just someone who likes to (or you'd like him to be) prepared in times when water a water purifier is a unique and useful gift idea. Read my review of the light weight, cost effective water purifier here.
Order the H2gO Purifier for $99
J-Pillow
Let's face it big travel pillows are not suitable for most men. They don't deny their comfort, they just are not convenient. Enter the J-Pillow. This compact j-pillow works for early morning train or bus commute to long flights.  Check out my J-pillow review.
Order one here at j-pillow shop for $49.95
Sock Smith Socks
Socks used to be a thoughtless gift, yet now with ties on the out, socks have become a fashion statement and fun socks are on the rise for sure. Sock Smith has over 300 options for men alone. Find something fun and let your man (or men) make a statement.
Order a pair of socks here for $10
Stay Adventurous 2020 Travel Calendar
Nothing says I want to spend time with you, then a calendar. And nothing says, let's go on holiday to a beach, then the 2020 Travel Calendar from Stay Adventurous – Bucket List Beaches.  For a sneak peek at all the calendar's beach images visit the stay adventurous calendar page.
Order your 2020 calendars here for $21.99
Have yourself the greatest holiday season… wishing the best to you and yours
Stay festive, Craig