In its lucky 7th year, the Stay Adventurous 2020 Travel Calendar returns to continue to inspire you to take and make adventure again in 2020.  Titled "Bucket List Beaches," the beach theme will have everyone yearning to plan a beach holiday in 2020.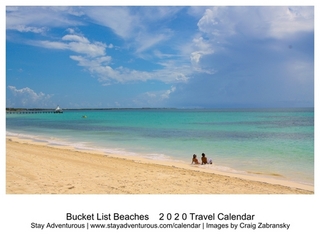 Order a copy (or two or more) and gift the 2020 Calendar. Or purchase it for your own office or home. Makes a perfect gift for the holidays and it is 15% off until Dec 15th.
Now to Dec 12th use code "ONEFIVE"
Dec 12th – 15th (no code needed)
Bucket List Beaches
Beaches have always been an inspiration and stay adventurous keeps up with a  "winter series – Beach Thursday" through the years that highlights beaches with the aim to keep us all warm through the shorter, colder days. This travel calendar  showcases images from the series along with others from my travels across Africa, Asia, Europe and the Americas.
Of course the classic idyllic beaches complete with crystal clear water and palm trees will be there, but you will also find some unique lakeside beaches, beaches available from cruise holidays, surfing locations, lakeside favorites, award winning beaches, National Parks, and more.
Proceeds Donated to Hurricane Dorian Relief Efforts
Two years ago, I donated proceeds to assist my local Florida Keys with its Hurricane Relief Efforts and this year I decided to donate proceeds again. Since no beach calendar is complete without the Bahamas I decided help support their relief efforts. This year $2 from every calendar sale will be donated to Hurricane Dorian relief efforts.
Stay Traveling with sand in your toes through 2020, Craig