Cortez came and he conquered. The Spanish conquistadors also arrived carrying the Christian or Catholic Cross to "Mexico" and the state of Veracruz is where they first came ashore. Just outside the  ruins at Quiahuiztlan, Cortez set up the first Spanish settlement in Mexico at La Antigua.
With the arrival of the Spaniards the first Roman Catholic Church was erected in La Antiqua, Veracruz, Mexico. It is still there and you can visit it. The church, Chapel of the Rosary, hardly the gaudy and gigantic edifices found across Latin America in most major cities, served its simple purpose as a place of worship. I sat inside the church that remains nearly the same as it stood in 1520s (with an original paint job).
So for the fifth Sunday of March and since its Mexican March Madness, I decided not to turn my attention to another Sunset Sunday post and a sunset from Veracruz, but to represent the importance of Catholic influence on Mexico in the March series; it is Palm Sunday after all.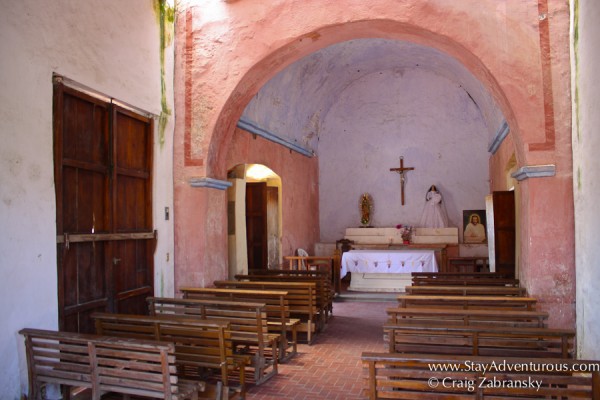 Best Mexico Travel Tips: What to do in Veracruz?
Besides my tour the day along the Veracruz coast inclusive of La Antiqua, the Casa de Cortez (Cortez's first house) and nearby ruins of both Quiahuiztlan and Cempoala the state of Veracruz offers plenty of things to do in Mexico.  The adventure traveler can partake in activities such as white water rafting on the Jalcomulco River or visit the spirituality of the island of Nanciyaga outside Catemaco. For city travel visitors will become enamored with the port city of Veracruz from its famous coffee and fort to its charming streets and distinct (and delicious) cuisine.  Also, for cigar smokers, definitely sample a good hand rolled  Veracruz Cigar.
Also to note, Veracruz is where vanilla originates. Yes, Mexico gifted the world not just chocolate (from Tabasco), but also (and more importantly in my opinion) vanilla.
Mexico Location Where is Veracruz?
Located along the Gulf Coast, the state of Veracruz is in eastern Mexico. Veracruz borders Tamaulipas; to the north, San Luis Potosí and Hidalgo; to the west, Puebla; to the southwest, Oaxaca and Chiapas; to the south, and Tabasco; to the southeast. As for  the name "Veracruz" the "Cruz" translates to cross while "Vera" represents "truth," for the "True-Cross."
Stay Adventurous, Craig
This post is part of the Mexican March Madness 2015, a look at the 31 United States of Mexico in the 31 days of March. Don't miss a state, sign up for email updates > here.