Chiapas without a doubt is one of Mexico's most fascinating states. The modern day people that inhabit the region are the direct descendants of the Maya and still maintain close ties to their century-old traditions and customs including their own language and distinct pattern of dress. With landscapes that range from misty mountains and highlands to dense jungles and tropical lowlands, Chiapas typically attracts travelers who are seeking meaningful and natural travel experiences.
Best Mexico Travel Tips for Chiapas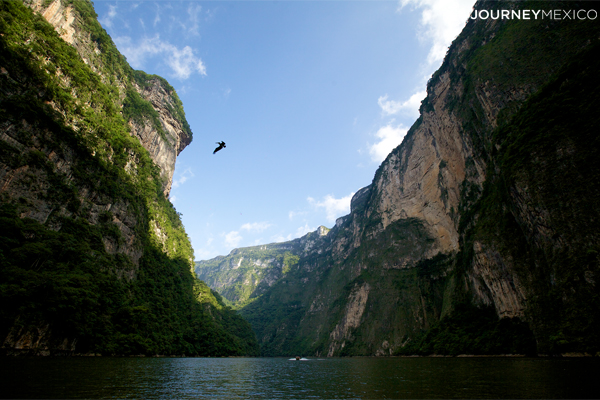 There are lots of things to do in Chiapas, Mexico with one of the most  popular being a visit to one of Mexico's most outstanding natural wonders: the towering canyon walls of the Sumidero Canyon. Abundant with crocodiles, spider monkeys, an array of birds, and surprising waterfalls there is nothing comparable to experiencing the canyon afloat on the river that carved it.
A lesser-known Chiapas experience includes accepting an invitation into the home of a Tzotzil Family in the indigenous town of Zinacantan to learn first-hand about their culture and customs.  There is also the charming colonial town of San Cristobal de Las Casas with its narrow cobblestone streets, brightly painted buildings and colorful markets. Another place that is worth visiting is the autonomous village of  San Juan Chamula where the town's church is a unique and complex mixture of Christian and Pagan beliefs.
While weaving through the state of Chiapas discovering these extraordinary communities, there are plenty of ancient Mayan Ruins  to visit along the way such as Toniná, Palenque, Yaxchilán, Bonampak, each of which are special and unique in their own way .
Mexico Location: Where is Chiapas, Mexico?
Chiapas, located in southern Mexico. The state is bordered by the states of Tabasco to the north; Veracruz to the northwest; and Oaxaca to the west. Chiapas also borders the country of Guatemala.
-Jessica from Journey Mexico
Journey Mexico specializes in crafting luxury, unique, and authentic travel experiences for the discerning and sophisticated traveler. You can learn more about Mexico by visiting their site: www.journeymexico.com and by reading their blog.You can also follow the journey on twitter: @JourneyMexico