This holiday season, many of us are asking Santa for an adventure in 2021. I know many of us lost travels in 2020, and sadly others have lost more, but as we move forward to the New Year, I aim to continue to inspire us to take and make adventure in our lives.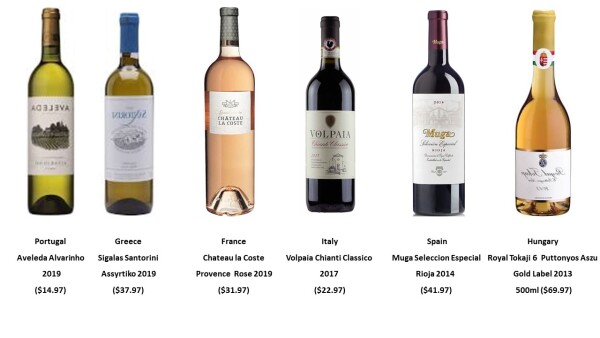 During the travel slow (shut) down, I produced a few podcast pertaining to traveling without physically leaving our homes, one specific episode was the popular staying adventurous podcast episode of Travel through Wine. Yes, we can always travel when we open a bottle of wine.
So, today, I am highlighting 6 wines from Europe, all available to purchase and all worth a taste. You can find them through my working affiliate – Wired through Wine.
Why Europe? Well Europe is my destination focus and theme for the Stay Adventurous 2021 Travel Calendar. The calendar, Europe on Foot, contains 12 countries across the 12 months. Six of those countries are the 6 countries listed with selected wine.
Ok, let's review which wines to buy this holiday season.
Select European White Wine & Rose
Let's start with whites and look to three of my favorite holiday countries in Europe – Portugal, Greece, and France.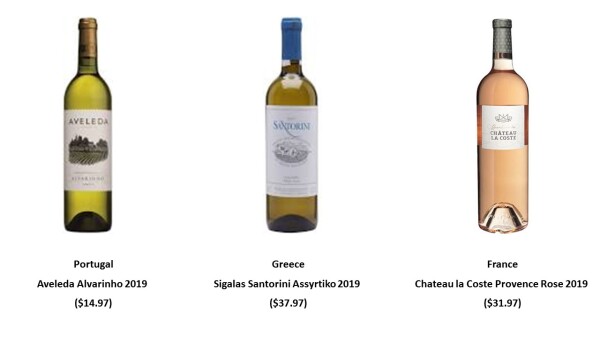 Portugal
Aveleda Alvarinho 2019 ($14.97)
Portugal wine exploration was on my travel calendar for April of 2020 with a sequel to my Love Lisbon coverage. The trip didn't happen, but I continue to educate myself on the wines of the country. Receiving 90 pts and a "best buy" status from Wine Enthusiast, this Alvarinho grown in the south of the Minho region of Vinho Verde also "holds has both pear fruit flavors and lifted acidity." The wine pairs well with Oysters and asparagus with butter sauce. Oysters. Yum. I can easily see this on my  holiday menu.
Greece
Sigalas Santorini Assyrtiko 2019 ($37.97)
The Assyrtiko grape grows its roots deep into the volcanic soil to establish a characteristic mineral taste. This is typical of the region and the landscape of Santorini. It is recommended to decant current vintage years and even age from 3-6 years. I recommend you try this grape as it may quickly become a favorite. To learn about the wine of Santorini, definitely listen in to my podcast, the Splendor or Santorini or the Travel through Wine episode. This wine takes me back to the views of Santorini.
France
Chateau la Coste Provence Rose 2019 ($31.97)
For the wine from France, I decided upon a Rose, but not just any rose, but rather one receiving 95pts  from Decanter and also one served at 11 Madison Park in New York.  Although listed as a great companion for summertime back yard patio fare, it also pairs well with Salmon, even smoked salmons and bagels, can you say "good morning." I can. Another major plus, and one of the best reasons to select this wine is the fact it is certified organic farming.
European Red Wines and Dessert Wine
To continue on our wine adventure across Europe, let's travel to three new counties this holiday season. Let's visit Italy, Spain, and Hungary.
Italy
Volpaia Chianti Classico 2017 ($22.97)
Chianti is a classic wine, a must from Italy and this Chianti Classico measures up for sure with its vivid ruby color and a strong nose and hints of cherry.  Scoring 92pts from Wine Enthusiast, you can expect a Chianti to enjoy for the season. Tis the season to be merry with cherry and berry when you pour this Chianti.
Spain
Muga Seleccion Especial Rioja 2014  ($41.97)
I've visited wineries across globe in my travels, but my time, tour, and tasting at Muga in Haro, Spain remains a standout. I've followed the wine since and this special Rioja scores 94 pts by James Suckling as they mention the "silky and crisp wine with fine tannins, giving a velvety, chalky texture and succulent finish." This ripe dark red pairs perfect with red meats, something I plan to enjoy at some point this holiday season too.
Hungary
Royal Tokaji 6 Puttonyos Aszu Gold Label 2013 – 500ml ($69.97)
Am I saving the best for last, those who love dessert may think so and so will those following the points since this Hungarian dessert classic received 98pts from Decanter. With a description of a "Full, complex and multi-layered with candied mango, papaya, honey, peach and sweet spice flavors," this wine is a perfect addition to a special holiday celebration. A perfect way to finish a holiday meal and seal a holiday memory.
——
ORDER the Wine – Join the Live Tasting.
So there you have it six European wines from six European countries listed on stay adventurous 2021 travel calendar selected based on ratings, price, location, and also taste. I trust this post encourages you to sample wines from the "Old World" Europe this holiday season, wines with tradition just like holiday celebrations.
To order all six wines, expect to pay $224 USDs (free shipping on 6 bottles) but know each bottles and others can all be selected or purchased, these are my recommendations designed to correlate to holiday dishes and also my Travel Calendar – Europe on Foot.
ORDER Your Holiday WINE today and also join me for a live tasting in December. The exact time and date are still being worked out, but you can expect a zoom or Facebook live event to join where I will sip each wine and share my thoughts about the wine and also share a memory from each European country. The details will be shared through my social media channels, my Facebook fanpage StayAdventurous, and via my newsletter too. So stay tuned, buy and bring these wines, or bring any European wines and join me for an evening of old world wine and stories. Details soon.
Stay traveling through wine this holiday season, Craig