Order the 2021 Travel Calendar
The 2021 Stay Adventurous Travel Calendar is now available for sale. In its 8th year the travel calendar took on another new theme this year, and decided to showcase Europe. Behold Europe by Foot.
All the images appearing in the travel calendar were taken when walking through Europe's cities and towns. The images displayed contain views of the charming rivers and bridges, the quintessential side street cafes, restaurants and boutiques, local churches, grand plazas, and more. It all aims to remind us all about what we treasure about Europe, the discoveries we make when walking about the cities and countrysides. It also shall inspire us all to plan a trip back to the old country in the future, when travel once again resumes.
Order the 2021 Travel Calendar
New Lulu Design
Although, I used the same vendor, Lulu, the calendar will not have the names of the destinations each month. I was unable to add writing to the photograph page. No destinations on each month. As you can see the cover page has also changed, but I used a watermark to add the title.
So when viewing the calendar you may wonder where you are in Europe. I can confirm you travel to 12 different countries through the 12 months and each location will be listed on my calendar homepage as of December 1st  but not before. Why? Because thanks to this new layout.
Order the 2021 Travel Calendar
The European Destinations
Three months are destinations in my list of podcast episodes (I only have three European Destinations), six countries are countries listed in my 2020 Holiday wine selections, and the 2020 holiday gift guide podcast actually interviews Pola Henderson, a travel content creator living in Europe. She provided a photograph for the calendar too and we discuss what month and which country.
Most of the countries have stories on my website too.
Order the 2021 Travel Calendar
Order a Calendar
Ok, let's travel to Europe in 2021. Order calendar as for a gift today. Order for someone you know loves who travel, or because you like to support artists following their passion. Order for someone who missed a trip to Europe last year, or has recently decided to make a trip happen once the world of travel and tourism normalizes again.
The calendar makes for a perfect for secret Santa gifts and it's great for co-workers or as a corporate gift too. And with travel expected to be limited for many of us in the coming months, a travel calendar will keep you inspired through the year and help you prepare for bold adventures in the coming months. Adventures that can take you to experience the history, culture, and vibe of the old continent.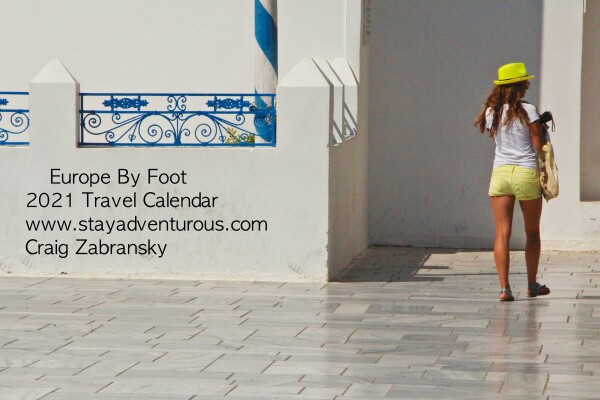 Stay Excited for 2021, Craig