"Craig, you must visit Chiapas one day, you will love it."
She made her case well, as she often told me reasons to visit her home state of Chiapas during our afternoon coffee conversations at the office oasis, the Banamex fountain. Her family would even take care of me as she knew my Spanish skills wouldn't translate well in some of the remote areas. All I knew of Chiapas was Palenque, the fmaous Mayan ruins I wanted to see before coming to Mexico, before our conversations.
Nearly, ten years would pass before, I'd eventually set foot on Chiapas soil. Yes, I kept my promise, but my hosts changed to ATMEX (Adventure Travel MEXico). This video details much of my adventure. Formed of "pieced-together" vines (six second vine videos) and a few instagram images (#StayATMEX) I took on the trip, the video shows the action and adventure set in chronological order. It showcases the conference, my adventures, and the destination is less than 3 minutes.
After my return home, I emailed my friend. I told her, she was right. I loved Chiapas.
Stay adventurous, Craig
Chiapas Travel Tip
The destination, the southern border state of Mexico with Guatemala, is certainly a different Mexico from the large all-inclusive beach resorts popular on the coasts. With a focus on nature, the wild and its remoteness, visitors must set expectations accordingly.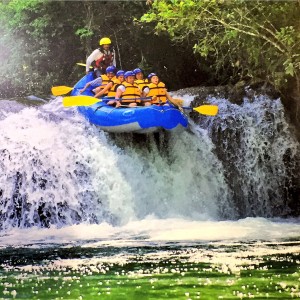 I can recall a time when rafting the Rio Lacanja (Lacanja River)  the guide told us much aobut this part of Mexico but on one seciton of the river his words translated to, "Smell that, that is pure oxygen."
We did smell something refreshing and it was pure. Shortly down river we stopped the rafts, not to jump another waterfall (we've jumped 5 or 6 on foot, with close to ten on the raft) but to hop out and swim in refreshing fresh water, and taste this cool, crisp, drinkable water. It was pure perfection.
this post is also part of the 2016 #MexMarchMadness series. Also, I was hosted by Chiapas and ATMEX, but the adventures and opinions remain my own as always.