When I first transitioned to a travel writer, Mazatlan, the seaside city on the Pacific coast invited me to experience the Mexican travel destination. Since my first visit in 2009, I've returned eight times and now have numerous memories of the sun, surf, seafood, cliff diving, amazing sunsets on the malecon and sunsets in the Golden Zone, attending Mazatlan Carnaval (one of the world's largest), and day trips to petroglyph beaches and colonial towns such as Copala.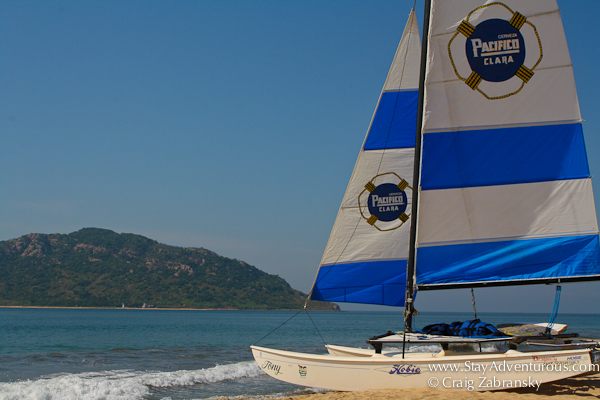 Yet, since it is home to my favorite Mexican beer, el Pacifico, sometimes it's best just to set sail with a cerveza. And if you need a course, definitely head to Stone Island over Deer Island.

Best Mexico Travel Tips
Mazatlan is a colorful city and is definitely one of the top places to visit in Mexico as it offers many things to do in Mexico. Established after Mexico was already a country, (translation, not established by colonial Spain) the seaside city offers a unique view into the country that my "the 5″ photos on Mazatlan highlight. But if you want the full story, all the details, be sure to listen to my guest interview on a podcast here.
Also, Sinaloa is home to part of the el Chepe Pacifico Railway. It travels from Chihuahua City, Chihuahua through the famous Cooper Canyon and ends in Los Mochis, Sinaloa. For me, I want to ride the rails once again and make sure I take it the whole way, including a stop in El Fuerte, the apparent birthplace of Zorro. Love that Z.
Mexico Location: Where is Sinaloa?
Sinaloa rests up on the Pacific coast (and the Sea of Cortez). The coastal state borders Sonora to the north, Chihuahua and Durango to the east and Nayarit to the south. It also contains the Sierra Madres Mountains and is home to multiple rivers. Odds are if you live  'north of the border' and ate a salad this winter, one or more of the ingredients was grown in Sinaloa. The Mexican state even uses a tomato on its license plate.
Stay adventurous, Craig
This post is part of the Mexican March Madness 2015 Campaign, a look at the 31 United States of Mexico in the 31 days of March. Don't miss a state, sign up for email updates > here.