Just before you arrive to Celestun, Yucatan there is a turn off for the Ria Celestun, a protected nature reserve.  Inside the park visitors can rent a boat (includes the boat captain) for 1,200 pesos. The cost is often (and best) shared with other visitors. Once you pile in, the navigates the waterways to discover wildlife. The tour lasts 2-2.5 hours with the main goal, to see a stand of Pink Flamingos.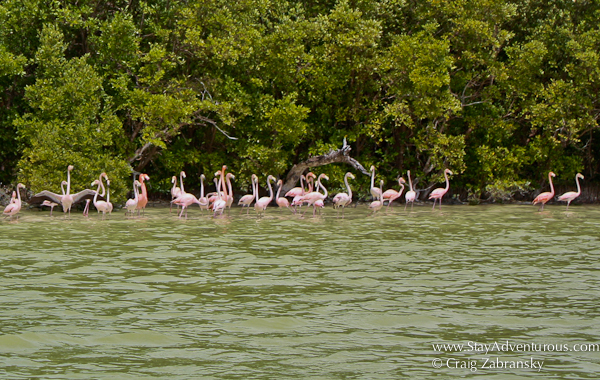 After getting your fill of birds (and ample photography), it was off down a narrow mangrove path to find a swim hole with sweet (fresh, non salt) refreshing water.  The trip itself is a perfect day trip from Merida, the capital of Yucatan, but staying for the  Celestun sunset and spending the night is worth it.
Best Mexico Travel Tips
Yucatan is filled with colonial charm, and offers many other  places to visit in Mexico.  There are the colonial cities of Valladolid and the capital Merida and a multitude of Mayan sites including the famous Chichen Itza with countless cenote swims close by.
Also, visitors today can discovery of the wealth from the sisal trade brought to the region by staying "back in time" in boutique Haciendas or hotels such as Hacienda Xcanatun or downtown at revitalized French manor known as the Casa Azul Hotel.
Mexico Location: Where is Yucatan?
Many people believe a flight to Cancun takes them to Yucatan. Well, yes, it does to the Yucatan Peninsula, but the state of Yucatan is not the home of Cancun nor the popular Riviera Maya (that is Quintana Roo, its neighboring state). Yucatan's coastline is to the north and its beaches, such as the virgin beach found at Hotel Xixim are on the Gulf of Mexico not the Caribbean Sea and it also borders the state of Campeche.
Stay Adventurous, Craig
This post is part of the Mexican March Madness 2015, a look at the 31 United States of Mexico in the 31 days of March. Don't miss a state, sign up for email updates > here.