Isla Mujeres or Island of Women, is one of Mexico´s Caribbean islands and it's just 8.1 miles away from Cancun.  The name given in the 16th century references the countless statues of the  Mayan Goddess Ix-Chel  that were found by the Spanish expeditioners.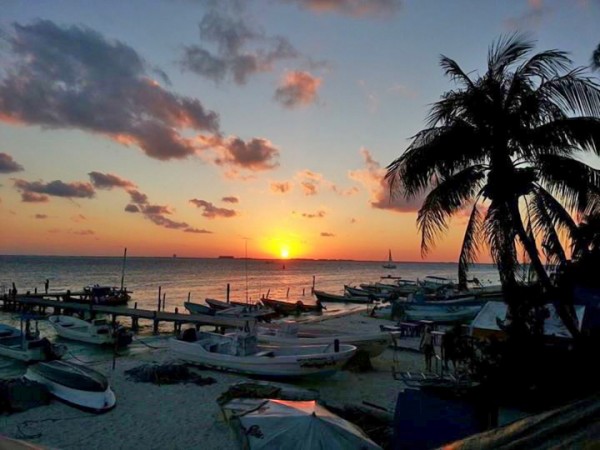 Despite being so close to Cancun, "Isla" basically remains a quaint fishing village. The variety of sea food that can be devoured at Isla Mujeres is as fresh and as good as it gets. There are many popular (and affordable restaurants) along with cocktelerias (drinks) on Rueda Medina Avenue, the main street, downtown. This fiery Mexican sunset photo was captured from the terrace of one of these restaurants while having some delicious "calamares al ajillo" (squid seasoned with garlic and some chili pepper).
What struck me about Isla Mujeres and this location particularly is that if you go just a couple of stories higher you can see the narrowest point of the island and be able to watch the sunset and the moonrise at the same time. Well, Ix-Chel is known as the goddess of moon after all. (and goddess of love, fertility, and textile crafts).
Best Mexico Travel Tips
Due to its proximity to Cancun is a favorite spot for sailboats, catamarans and yachts filled with both tourists and locals who want to snorkel or dive into the astounding Mayan Reef and the Cancun Underwater Museum. A one day trip to Isla Mujeres should be among your things to do in Cancun especially since it offers the chance to really take in a breathtaking sunset.
Mexico Location: Where is Quintana Roo and Mexican Caribbean
The state of Quintana Roo is one of the youngest states of the Mexican Republic and it's located on the Yucatan Peninsula (with the states of Campeche and Yucatan) and takes up the eastern shore of the peninsula. The state is much more than Cancun beaches (or Spring break) as it contains Mayan sites like Coba (where you can climb the pyramids), cenotes like Multan-ha and impressive beaches such as Tulum. The Mexican destinations in Quintana Roo remain some of the most popular and safest tourist destinations in Mexico.
-Marhu Barreto
Marhu is the Strategic Content Creator for Olympus Tours in Mexico and calls Cancun and Quintana Roo home. Follow @OlympusTours on twitter for more details on tours and activities to do in Quintana Roo on your next visit.
This post is part of the Mexican March Madness 2015, a look at the 31 United States of Mexico in the 31 days of March. Don't miss a state, sign up for email updates > here.