Recharge and refresh in the outdoor waterfalls of Matacanes Canyon. The Canyon is located about 60-90 minutes from Monterrey, the second largest city in Mexico and the capital of the state of Nuevo León are several tours that help you visit many of its attractions ranging from a couple of hours to an almost full day of activities. During your exploration of and descent of Matacanes Canyon you will know why it is name stems from huge showers with the waterfalls, slides, caves and underground rivers.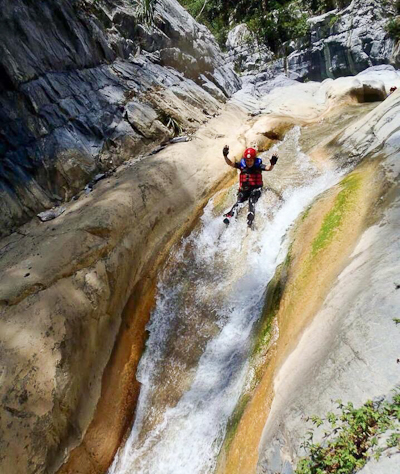 Best Mexico Travel Tips: What to do Nuevo León
The Fundidora Park stands in the center of Monterrey, welcoming locals and visitors alike. With more than 140 hectares, people can take part in cultural, athletic, watch artistic performances and do some business lunches. It is a must visit and and thing to do in Monterrey, Mexico.
Mexico Location: Where is Nuevo León?
Nuevo León, located in northeastern Mexico, borders Tamaulipas; to the north and east, San Luis Potosí; to the south, and Coahuila; to the west. Also, to the north, Nuevo León has small under ten mile border with the US and the state of Texas.
-Fernando
The words were shared by my friend Fernando Casas, one of my amigos when I worked in Mexico City on a contract with Banamex and the photographs were taken by Adriana Garcia.
This post is part of the Mexican March Madness 2015, a look at the 31 United States of Mexico in the 31 days of March. Don't miss a state, sign up for email updates > here.