Chichen Itza, identified as one of the new seven wonders of the world, will continue to receive attention as the Mayan Calendar closes in on a new Baktun. Translated by many scholars to a December 21, 2012 date, the day represents a new era of time or as some believe the end of time. Whichever you believe as the day continues to inch closer many visitors plan to flock to the Mayan Ruin sites to celebrate.
Of course there are many archaeological sites exist in the Mayan World (Mundo Maya) in Mexico like Coba and in Central America like Tikal, but Chichen Itza in Yucatan remains the most popular. And on a recent tour I captured these images of the site.
Pyramid of Kukulcan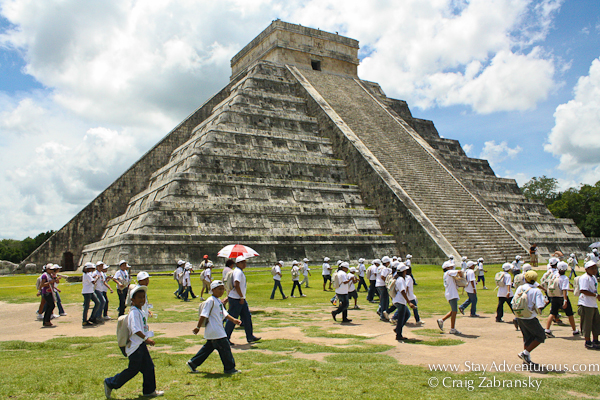 The iconic Pyramid of Kukulcan is the most impressive and striking structure at the famous Mayan Ruins site. Particularly popular on the spring and fall Equinox when a serpent made of sunlight "descends" down the pyramid, the pyramid is the most popular on the site.
Tzompantli, the Skull Platform
Legend and lore definitely exist around the skull platform. In the later periods of the civilization, the platform seemed to actually carry the "heads" of enemies of the city.
Temple of Warriors and 1,000 Columns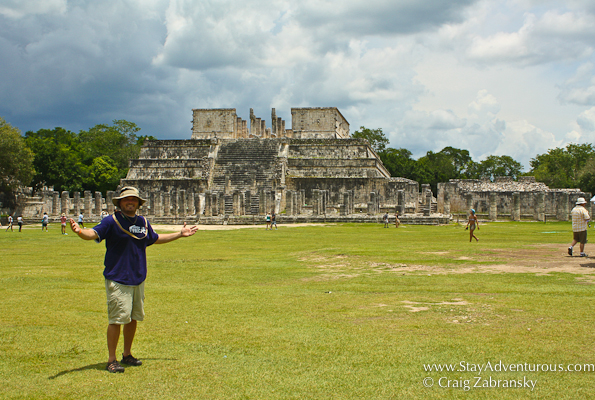 On my walk over to see the Temple of Warriors I posed for a photo. In the distance you can just barely see Chac Mool. Both the sacrificial site of Chac Mool and the Pyramid of Kukulcan remain off limits to visitors to climb / touch.
Mayan Ball Court
The Mayan Ball court of Chichen Itza, one of the biggest from the Mayan world, wasn't just fun and games. It was a serious game of life and death too. After walking through the grounds I headed to the Grand Cenote or Sacred Pool.
An umbrella is one of the three travel tips to touring the Mayan Ruins in the Riviera Maya.
the Mayan Observatory and More
The grounds are enormous. You can spend an entire day at Chichen Itza. And after the "main" attractions, you must walk around the grounds and visit other pyramids and the observatory. The knowledge of the constellations and astronomical events continues to impress scholars today.
stay adventurous, Craig
I'd like to thank the Riviera Maya Tourism and also Xichen for providing passage to Chichen Itza. Also, I wish everyone a Happy Mayan New Year.