How often do you say, "I want to do what the locals do," or "I want to eat where the locals eat," when traveling? Pretty often I bet. And I am guessing one of your favorite travel experiences involves a local or authentic experience too.  Am I right?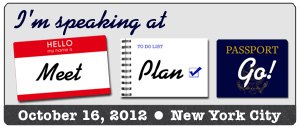 Well, did you stumble on the experience or do you actively seek them? Recently I was asked to be part of a panel for the Meet, Plan, Go event  on October 16th. The event provides the resources and encouragement for Americans to take a career break. I was asked speak on the "Go Local" panel.
For me, going local was a big part of my career break, and also part of every trip I take. On  my near year long sabbatical I knew I wanted to make sure I stayed in one destination for a set amount of time and truly experience what it was like to live there, not just travel there. For me I selected Buenos Aires, and the experience and destination hold some of the fondest memories of my adventure.
But you can "travel like a local" on any trip. Here are a few tips to help remind you how.
1 Take the Time and Commit to it.
Time is often considered our most precious resource. Whether a long weekend or a travel sabbatical how much time you spend in a location is probably the biggest decision after where to go next. There is always so much to see, and going local is not about checking the boxes on the popular tourist attractions, it is about committing to a destination.
On my sabbatical I decided to take 2 months and call one place home. I selected Buenos Aires. I definitely missed some experiences in South America because of it, but staying put enabled me to truly dance a tango with the city.
2 Toss the Guide Book.
As a local to your neighborhood or city, how often do you use a guidebook? (only when friends come to visit?) So if you want to be local, pick and read up the local papers and publications; check the listings for activities and events in the community. I discovered many smaller events that introduced me to new friends and created the opportunity to make connections to locals.
Just recently reading the local paper in Oklahoma City started a conversation with a local that led me to a few Art Galleries and conversations with the owners. It works magic.
3 Do look up your friend's cousin's college roommate.
If you cannot find a friend who can be your tour guide, then say YES to other connections. Often times people learn about  your travel plans and say oh, I know someone who lives (or even lived there), I'll pass along their contact details. Follow-up. Don't let the lead die on the vine. Everyone loves a traveler, they tell interesting stories and live interesting lives. And everyone loves to show off their home town.
My European passages, visits to Hong Kong, and especially my road trip across the United States all benefited from these loose connections.  Use them they are locals.
4 Rent an Apartment.
Find a place to call home. Research before your trip does help, but don't worry too much, it is when you walk the streets and explore neighborhoods you truly sense a place.  On my trip to Buenos Aires, I stayed at a hostel for almost two weeks until I found the right place.  I eventually called Palermo Viejo home.
You can also find an apartment on any trip. I stayed in an apartment for one week in Amsterdam when I did an apartment swap too.
5. Shop in the Supermarket (and Markets).
Locals don't always eat out, they cook at home. Therefore, you must shop for food. Although I am hardly a fan of this task in New York (I use Fresh Direct ) I do know how much you can learn about a culture by spending time in the supermarket and the real (non-toursit) markets.
Whether the modern supermarket in the rural rice patties of Japan, the pre-new years food shopping chaos in Beijing or the free beer sampling in Mexico City supermarket by Dos Equios models, supermarkets help you see the local culture in action.
Also, you can try the local markets too. Great examples include the organic farmers market in Amsterdam, and the underground Market in Guatemala City.
6 Eat Everything (at least once)
I'll admit it, I am not very understanding when people are too picky about their food on the road. To me it is the sure fastest way to saying I don't appreciate your culture. I know people have reasons (excuses) and perhaps many are valid, but the way to understanding a culture (and becoming local) is through the cuisine. It's history, it's art, and it's the way to connect, so break bread.
And do try it all at least once, including the drunken shrimp and all those delicious Chinese delicacies.  Trust me, God will forgive you.
7. Spend time in Public Places.
As much as I enjoy lounging poolside or nights out in the bar, to truly become local, you must spend some time in the town center and public spaces such as the main plaza or local parks.
With my time in Latin America, I learned Sunday is family time. The squares, parks and streets filled with people. Take a stroll and be part of the community just like I did on the streets of Oaxaca.
8 Learn the Language.
Yes, phrases help and they do show effort, but the more you learn the better. Remember locals are fluent. The key is to practice and avoid the easy temptation to speak English everywhere. And remember there is a difference between an expat experience and a local experience. I am not judging, but if you want to truly focus on the latter – study the language.
I studied for a month in Costa Rica and also took lessons in Buenos Aires. Both helped me and truly changed my experience. The skills also led me to an opportunity to live and work in Mexico City.
9 Get a Local Phone Number.
My life changed the day I purchased my (local) phone in Mexico City. Before it I used email only, but having a local number and having the ability to send and receive local texts augmented my social circles. I started communicating with locals on a lower cost network.
Non-americans know this drill so much better and sometimes this can be as easy as a local SIM card. But if you need to purchase a cheap phone, it is worth it if you plan to stay local for a while.  Plus, most times the phone can be used in other locations with a replacement SIM card.
10 Read a book about the Destination. 
An often overlooked way is to simply read a novel about the destination. And a novel preferably from an author from the destination. See the world through the eyes of a local in his or her prose. As you read you will learn the way they view their society and also learn about its history.
I felt much more connected to Guatemala when traveling the country after reading a book written by local Mayan Shawman  called the Secrets of the Talking Jaguar
These are just ten tips on how to "go local" I am sure there are plenty more. And if you know of a few others, please add them below. Let's make this a great resource for those individuals looking to travel and Stay Local when on the road.
Stay adventurous, Craig