A special thank you to all those who purchased the 2018 Florida Keys Road Trip Calendar, the sales enabled me to help raise over $500 USDs for Hurricane Irma Relief Efforts.
Where did the Funds go?

On the official 2018 calendar page, I detailed a list of four organizations to disperse the funds across. The first the Florida Keys Teachers Relief Fund required the funds in mid-December to provide a gift to the teachers in Monroe County by Christmas. So I simply estimated total sales and provided a check for $136 to the organization. To learn more, listen to my 2017 Holiday Gift Guide episode of Staying Adventurous as I interview the Lizz, one of the creators of the GoFundMe effort.
Then based on total sales by the end of February I aimed to disperse the remaining funds but discovered an issue. When I contacted the 3 remaining organizations again, unfortunately I did not hear back from the Evacuee of the Keys.org even after numerous attempts to contact them.  Knowing the help they provided shortly after the storm, I wanted to give them multiple chances, but eventually decided to not provide funds to them since I couldn't connect with them. I needed to allocate those funds elsewhere.
Based on that decision, I calculated the remaining proceeds and donated $140 to the Keys Vineyard Church and also $140 for the MM50 Relief Effort.  To learn more about all the organizations originally vetted for the donations, please visit the 2018 Staying Adventurous Calendar Page.
Yet, I was still missing an organization and I still held $126. I needed another organization.
Selecting a New Organization
I searched for a new organization and I decided to donate to two.
Conch Republic Marine Army
I shortly discovered a Florida Keys Marine Cleanup, started by volunteer Brian Vest from Big Pine Key. With Monroe County overwhelmed with cleanup he decided to organize and take action. Assembling an army of kayaks they paddled through canals of Big Pine Key spending the day on a massive cleanup effort. Showcasing conch resolve, this "marine army" of volunteers made more than a ripple in the community receiving local media coverage, recognition from the county and followers and volunteers helping the cause. Now scheduling of future cleanup dates are constantly in the works as the effort far from finished.
To follow his efforts, like the Facebook page > Conch Republic Marine Army and also you too can give to his GoFundMe effort on > Florida Keys Marine Clean Up Fund.
After I forwarded $100 to this effort, I received a thank you note from Brian Vest himself.
Thank you very much for the kind words. We feel like we're battling a mountain and funding is nearly impossible to get but we're working on it and we're growing. We are making a difference I can feel it and I can see it. Thank you so much keep following your progress on our Facebook page. We have another big clean up next Friday the 11th at the old wooden bridge. You just paid for all the ice and water and a few snacks as well. The volunteers really do appreciate that hugely."
You are welcome Brian, and Thank You.
Key Players
I realized that the arts are critical on any road to recovery, so with the opportunity to reallocate funds, I wanted make sure I also gave to an organization that helps promote (and perform) the arts. The immersion in the arts allowed us to look beyond the problems that exist on the roadsides, canals, and homes and focus on expression or even escape in entertainment even if just for a  while – to feel human.
The Key Players, a non-profit community theater group in the upper Florida Keys, decided the show must go on after Hurricane Irma and kept to its three show season. Many cast and crew still donated time and resources even while enduring the hardships of putting the pieces of their lives back together as Florida Keys residents.  Also, the November play, just two months after Irma, was provided with "free admission" to the community.
As a fellow "player" who performed in the mid season show War of the Worlds I know firsthand of these volunteer efforts many individuals provide to entertain their fellow conchs. Therefore, I decided to donate the remaining $26 to this non-profit theater group and to help their efforts in entertaining the residents of (and tourists coming to) the Florida Keys in the future. I'll ask for this donation to be earmarked to allow two free tickets to local residents in need of an escape to a night of the arts during the 2018-19 season.
Thank You Again
In summary $542 dollars were raised through the calendar efforts and were donated:
Florida Keys Teach Relief Fund $136
MM50 Relief Project $140
Vineyard Church, Big Pine Key $140
Conch Republic Marine Army $100
Key Players $26
So thank you again to all those who helped make these donations possible through  calendar purchases, social sharing (online and also word of mouth), direct donations, and through supporting Stay Adventurous. It was a difficult time for many, but collectively we made a difference.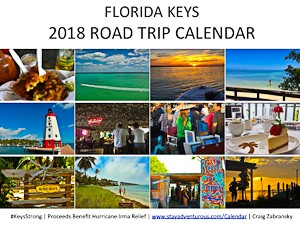 Plus for anyone interested in a calendar still (you still have more than 7 months)  I have one extra in my possession. Please comment below or send me an email through my contact page and I can send it to you. I'll just ask you to pay the postage – of course anything over the postage I can donate to any of these organizations above too – it's up to you. I know all of them would be happy to have the support.
Stay Giving Back, Craig