Cozumel, an island famous for Scuba diving holidays and serving as a popular western Caribbean cruise port filled with beach clubs offers more and reasons for tourists to spend the night for a tropical vacation.
My recent podcast on Cozumel – the Mexican Caribbean – highlights many of the things to do and see on the island, but you may ask – where to stay if you plan to spend a few nights? Well, don't worry, I have you covered with a quality option from a past adventure to the island called Hotel B. It is definitely a place to consider when searching "where to stay" in Cozumel, Mexico.
The Just Be Vibe
There is a certain vibe in the hotel, simple, yet open. From the beach daybeds, Adirondack chairs on the dock (where you can have breakfast delivered) to the hammocks perfect for an afternoon siesta (or the chance to read a book) plenty of options are available to "Just Be."
Not to mention the pool doesn't let you forget the words to live (and certainly holiday) by.
Take a Dip in the Pool, Jacuzzi and the Sea
The infinity pool definitely delights with incredible views from morning to evening. Also, available is a Jacuzzi atop a small rock formation overlooking the vast sea.
And don't forget sea itself, perfect for a snorkel or a quick dip with the opportunity to climb back up a staircase in the rocks to the property and its hot tub.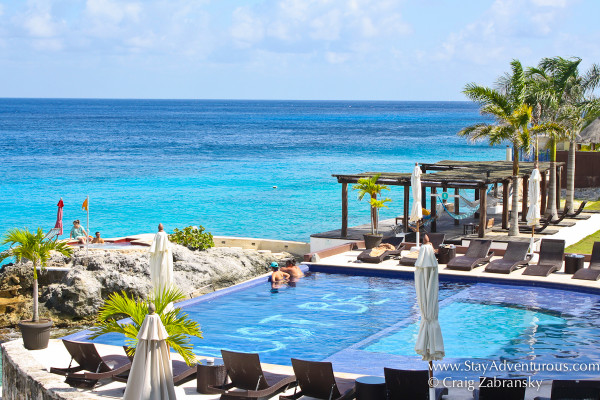 Close to San Miguel, Cozumel
It is only a short taxi to the main town offering a perfect way to pass the time and find some more local spots to dine. Although some evenings dinner at Hotel B come with beach views, a sunset, and  entertainment, the non-all-inclusive nature (although partial breakfast was included in my stay – definitely order the Chilaquiles Verde) allows you to enable you to explore more  (guilt free) and head into town for a meals, drinks, dancing and not just shopping. It is just another opportunity to stay adventurous and explore in Cozumel.
Cruise Patrons Visit
When staying on the island, one definitely must prepare for cruise passenger traffic when the ships come into port. And from your balcony view each morning guests can watch the ships pass by as they (and you) prepare for a day in port.
One excursion many passengers take is a beach day, such as Paradise Beach, and others search for a pool. Hotel B allows cruise passengers to purchase a day pass to enjoy the poolside here. And with such incredible views, it is no wonder people purchase it. Of course, the hotel provides an allotment of lounge chairs, services for only hotel guests, but if you do stay the day at the hotel, it is important to know there will be an influx of people. But don't worry, they all leave with the ships and usually well before the Cozumel sunset.
Where to Stay Recommendation

The hotel held a unique vibe, something distinct and allowed you to relax, to "just be." Perhaps at times the staff feels to much the same way (too relaxed) for top service, but this isn't a top service resort and the rooms are fairly beach basic. Remember this is a boutique focused on the viBe.
I spent two nights here and I recommend at least one (3 total) more than that to explore more of the island and take the time appreciate the property especially the pool and views.
Also, definitely spring for the ocean view rooms, it is well worth the extra. For late march I noticed rates of just over $200 per night for a 2 person room. Prices will be lower in the slower summer as per the hotel website.
Stay adventurous in Cozumel,
As part of my travels and working with Boutique Mexico hotels, I was hosted at the property. But as with all reviews, the words and opinions are my own.

This post is part of the Where to Stay Series, detailing experiences on places to stay across the globe. See all the current posts on the Where to Stay Special Series page.  Additionally, this post is part of the Mexican March Madness series designed to educate, enlighten and entertain readers focusing on Mexico every March. Follow along in 2018 as we focus the diversity of Mexico Travel available to the traveler and tourist alike. Viva Mexico!