A Milestone Sunset this week from Playa de los Muertos in Puerto Vallarta, Mexico.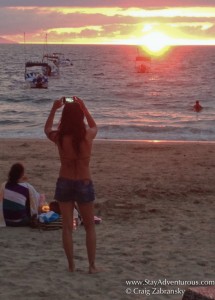 The 250th Sunset Sunday
Two hundred and fifty sunsets. 250 Sundays with a Sunset. Yes, today, this week is a milestone week as #SunsetSunday and the Sunset Sunday Series reaches its 250th post.  What started over five years ago continues to expand and today its time to celebrate 250 Sunsets on the site.
The sunset remains a special part of my day and a special part of my life. It is probably no surprise I cherish each and every sunset moment. I love to share them with others and spend them solo. Sunset moments continue to seduce me and make me reflect. Sure, I may have forced a few sunset moments, but truth be told in the last five years my love for the sunset has not just augmented exponentially, but also taught me so much. It has become my meditation and allowed me to become present – a true gift.
 Sunset at Playa de Los Muertos, Puerto Vallarta
I wondered where to visit for this special milestone, but returning to Playa de los Muertos, an active beach filled with talapas, roaming musicians, beachcombers and cervezas seemed like the perfect place. The special section of beach south of the malecon and off the romantic zone in Puerto Vallarta, Jalisco was home to my second Sunset Sunday post. It was my first follower and essentially made one post into the start of the series.
Yes, I've returned to Puerto Vallarta many times since and included many Mexican sunsets from the Pacific coastal town since, but I never reposted from this beach until now. I don't often like to repeat as the quest is to complete the Sunset Sunday map, but when I walked on the sands with my #SunsetSunday long sleeve t-shirt in case the night time air caused a chill, I decided to take the shirt out and have it pose as a model.
I decided to prop it up on the table, relax and enjoy the moment. Hope you do too. And I hope you continue the love each and every Sunset Sunday moment in the series. Happy Sunset Sunday.
Stay adventurous, Craig