We arrived to Casas Grandes around dusk. With the sun setting we dropped off our bags at our accommodations and our hosts told us to view the property and select our own room. But before I secured my bed for the next two nights, I searched for a place to capture an image of the sunset on the barren land in Chihuahua. No such luck (or time).
Our guide, Dave of Authentic Copper Canyon, promised a better vantage point the next evening (and he would deliver at Hacienda San Diego ), but I still had tonight. Then when I walked inside, I just looked back and noticed this scene. So, I decided to capture the sunset glow through the gate.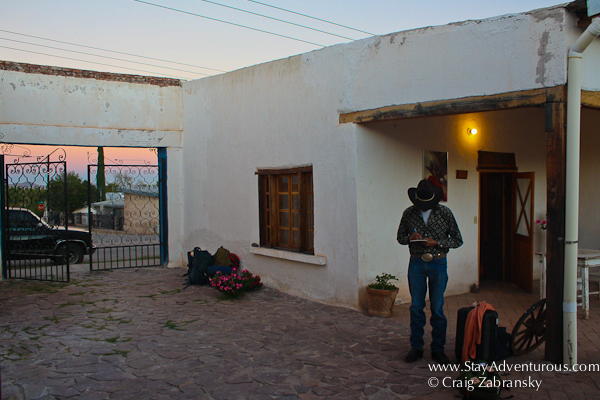 After the sunset and the room selection our hosts opened wine and we talked about the local Mata Ortiz pottery. At first, I thought the most memorable and magical parts of the journey through Chihuahua might be behind me. But after a few words with Spencer MacCallum I began to cherish this region and even its pottery. It's world renowned Mata Ortiz pottery.
Spencer, a real life Indiana Jones style adventurer and anthropologist, told his story of discovery.  His experiences captivated not just me, but really all of us on the trip. Plus, he loved the name of my site… He agreed-Stay Adventurous. I could not have smiled any bigger.
Happy Sunset Sunday. Stay adventurous, Craig