I returned to Veracruz to attend the ATMEX conference last fall. This trip, my second time in the gulf coast city, allowed for a little more exploration and the capture of these five photos. I learned a few new things about Veracruz, but it remains a city (and state) inside Mexico I need to explore more. I plan to return.
The Port of Veracruz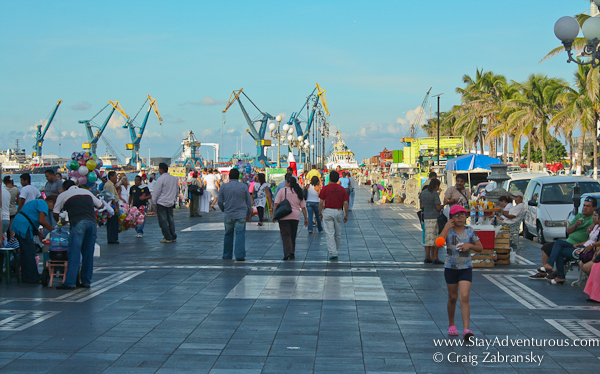 Veracruz remains an important shipping port for Mexico today. Although it may not ship or receive the most cargo in the country, one certainly can't walk around the downtown without noticing the modern shipping industry. This image is along the promenade and close to the main tourist market.
Cafe Lechero – A Good Cup of Coffee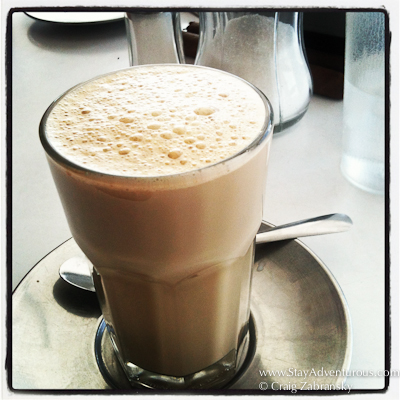 Veracruz offers a unique cuisine. The delicious and delightful Veracruzano is a popular way to enjoy fish and the style makes menus around the entire country. But, for coffee enthusiasts, a must is a cafe Lechero. As I mentioned in the 9 new things I learned about Veracruz, visitors can join locals and sit outside at a 204 year old institution called Gran Café de La Parroquia. The coffee's special pour of the hot milk makes it.
Plaza de las Armas-Zocalo of Veracruz
After our coffee, my friend and I planned to  ride back to the Galeria Plaza in Boca del Rio (the town next to the city), but Bill had received a parking ticket that included a parking lock on the tire too. We needed to find the municipal office to pay it. We headed directly through the main plaza on our way to find it behind Sambornes (a famous Mexican chain). The city's main Cathedral is in the background.
Streets of Veracruz
Veracruz, with a long colonial history displays character on a simple walk through the streets. I captured this moment upon arriving in the city. I always find that buildings and people tell the story of the city.
San Juan de Ulúa
The Fort of San Juan de  Ulúa is a little outside the heart of the city.  I wondered how far (and how remote) when my taxi driver seemed to drive down an endless coastal road, but I arrived and decided to ask my driver to wait as I took a few hours to explore the grounds. For me the stop was not solely for its historical significance (dating back to the 1500s when it was first constructed), but its recent history. Fort San Juan de Ulúa is the fort used in the movie Romancing the Stone one of my favorite films.
Stay adventurous, Craig
Special thanks to Veracruz and ATMEX for passage to the city. These images were taken and enjoyed during my free time in the city. Also, this image is part of the 2013  Mexican March Madness. This year it will consist of 31 photos in across the 31 days of March.