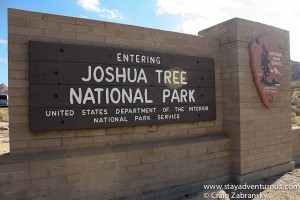 The desert clears your mind and calms your soul. A hike through the trails of the beautiful, and barren, provide the perfect cure for a clouded mind. On such a hike through Joshua Tree National Park I discovered more than the tree, but also a cactus cure.
I woke up early, very early. I started my day with a sunrise at the Desert Lily B&B and after breakfast I entered Joshua Tree National Park. The park, just a few hours west of LA, or San Diego, is very different than the southern California coast I've come to know. Today, the desert awaited.  I planned an entire day and drove the vast park grounds to hike select trails. I even stopped along the roadside a few times when a certain view needed to be appreciated outside the confines of my car.
The Joshua Trees
Cholla Cactus Garden
The roads, the rocks, the trails, and the trees all impressed. And just like anyone who grew up a U2 fan, I wondered where was the Joshua Tree (used on the album cover) located?  The tree from the album cover has since died.
Then here was a short hike, a walk through a cholla cactus garden that shifted my mindset the most. A visual oasis from a distance, the colorful cactus created an urban sprawl of life across the desert landscape.
Here I stopped and paused. I found complete peace, stillness. Apparently, I too, finally found what I am looking for…
Adventure Travel Mindset
Sometimes we enter a day or a destination searching the popular "must see" item, in this case a Joshua Tree. Yet, often it is what else we find that makes the moment and our memories special. I wanted to enjoy the tree the park is named for, but I discovered other beauty on the way. And when you're open to that beauty, it makes for even a better adventure.
Stay adventurous, Craig
This post is part of the Autumn of Adventure, and the Adventure Travel Mindset series.