A walk on the Malecón is a must on a visit to Puerto Vallarta. Lined with art sculptures, a stroll along the pedestrian only walkway provides visitors a chance to slowly take in the beauty of the Bay of Banderas and mix among the people both locals and tourists of the seaside city.
Besides meandering among art visitors can also shop or catch a cerveza and watch the show of Voladores of Papantla. Flying through the air, this Mexican native tradition is reenacted here to the delights of the crowds. And of all the times to catch the Voladores de Papantla on the malecon, my favorite is at sunset. Happy Sunset Sunday.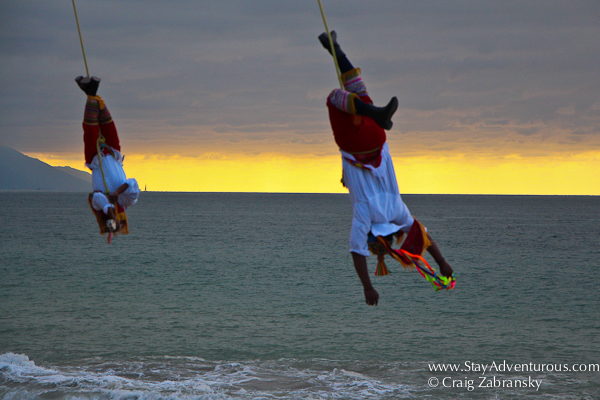 Best Travel Tips for Jalisco, Mexico
Fortunately I find myself in Puerto Vallarta often and each time I visit I gain a deeper appreciation of the city and my recent visit eco-adventure was no different. I once again visited the beaches of Yelapa and an eco-adventure hike through the town only accessible by boat. I also headed back out to see for more Humpback Whale Watching.
Jalisco is also home to Tequila, the only blue agave spirit can actually be called Tequila and the Mariachi, the two perfect companions to any Mexican fiesta. The capital city of Guadalajara is also one of the biggest in Mexico.
Mexico Location: Where is Jalisco?
Located on the west coast in the north-west part of the country, Jalisco borders the states of Nayarit, Zacatecas, Aguascalientes, San Luis Potosí, Guanajuato, Colima and Michoacán. It coastline also allows for amazing (and milestone) Mexican sunsets.
For more details on Puerto Vallarta specifically, you can see my first video of the Mexican Bitacora (Journal) – episode one an overiview of Puerto Vallarta.
Stay adventurous, Craig
This post is part of the Mexican March Madness 2015, a look at the 31 United States of Mexico in the 31 days of March. Don't miss a state, sign up for email updates > here. Special thanks to Puerto Vallarta for inviting back to the city. It was another great time, but as always the words and opinions expressed on my site are my own.