The village of Comala, Mexico, about 10 miles (16 km) outside of the city of Colima, the capital of  tiny Colima state, is home to a unique drinking tradition. While every Mexican city, town and village has at least one plaza with at least one bar on it, in Comala, named a Pueblo Magico in 2002, you'll find a plaza ringed with open air bars tucked into atmospheric portales. These bars offer endless plates of tasty snacks that come free as long as you keep ordering their (slightly pricier) drinks. Gaze at the very active 12,533 foot (3,820 meter) Colima Volcano as it spews and sputters in the distance as the cold beers, tequila shots, tacos and mariachis just keep coming.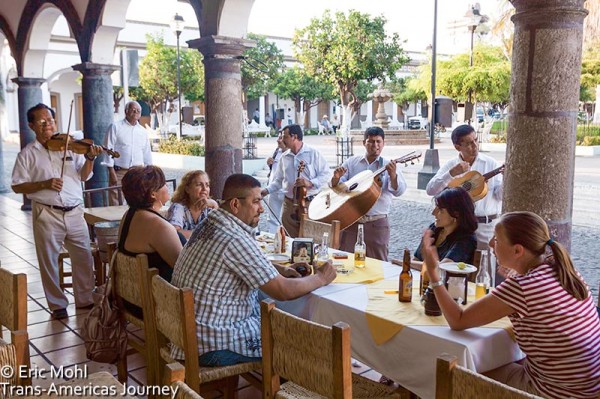 Best Mexico Travel Tips: Things to Do in Colima
If you over do it at the bars on the square in Comala, take advantage of a local morning after remedy. It's called leche caliente and it involves an early morning trip to a dairy farm armed with cups, alcohol (the plastic bottle containing the clear hooch will simply say "alcohol") and a mix of ground up chocolate and sugar. Somehow you end up with this, a  Comala Leche Volcano.  Once you've recovered, don't miss Nevado de Colima National Park where you can hike, go birdwatching or even climb the Colima Volcano if it's not too active.
Mexico Location: Where is Colima, Mexico?
Colima is one of the smaller states and located on Mexico's Pacific Coast between Jalisco to the north and Michoacan to the south. Also, the state is home to the four  Revillagigedo Islands, oceanic islands far off the coast of Mexico. Also, despite being small and the state with the lowest population, it apparently offers one of the highest standards of living in Mexico.
-Karen Catchpole & Eric Mohl
In April of 2006, SATW award-winning freelance travel journalists Karen Catchpole and Eric Mohl left their jobs and apartment in New York City and embarked on their ongoing Trans-Americas Journey, a 200,000 mile working road trip through North, Central and South America including 18 months and nearly 25,000 miles in Mexico. They freelance from the road for outlets including Travel + Leisure, National Geographic Traveler, Afar among others. Follow along on the Trans-Americas Journey travel blog as their little road trip continues south through the Americas.You can also find them on twitter @TransAmericas
This post is part of the Mexican March Madness 2015, a look at the 31 United States of Mexico in the 31 days of March. Don't miss a state, sign up for email updates > here.